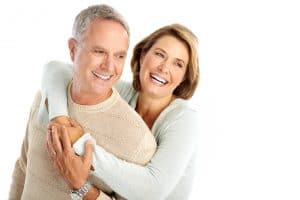 Without a full smile, you can become self-conscious about your appearance, and you can find that your favorite meals are more difficult to enjoy due to problems with your dental function. What you may discover over time is that, unfortunately, tooth loss can create issues with the health of your jawbone, and jaw joints. Your Houston, TX dentist's office can talk to you about planning prosthetic dental work that relies on a modern approach to restoring your full smile. In addition to providing a lifelike restoration, you can receive a dental implant to keep that restoration secure. In the long term, a restored smile can reduce your risk for jawbone deterioration, as well as headaches and other pains associated with TMJ dysfunction.
Problems That Can Occur Due To Issues With Your Bite Function
While you can understandably worry about the impact tooth loss has on the way you look, you can find that problems with your bite function can become serious. Over time, you may experience difficulties with moving your jaw to bite, chew, and speak because of strain on the joints. This can be a consequence of trying to work around a gap in your smile while you eat, as these unnatural movements can create more stress than you realize. In addition to ongoing problems with limited dental function, these jaw troubles (commonly referred to as TMJ issues) can lead to facial pain, headaches, and other issues.
Some problems with poor dental function are more centered around your teeth. The extra work required of your remaining teeth can lead to problems with wear and tear, which puts you at greater risk for needing restorative dental work.
We Can Address Tooth Loss By Providing A Modern Restoration
A modern restoration that is held in place with a dental implant can have a significant effect on your dental function, your appearance, and your oral health. Implants take on the kind of function once provided by your tooth root. In addition to stabilizing your prosthetic, the implant will stimulate your jawbone and keep it healthy, and limit the movement of neighboring teeth. After referring you to an expert for implant placement, our practice can welcome you to provide your implant restoration, which makes your smile whole again!
Fully Recovering From The Effects Of Tooth Loss On Your Dental Function
While your restored smile can be a big improvement, you may have lingering issues with discomfort if you have ongoing problems with TMJ dysfunction. A special oral appliance, custom-made for you, can reduce the stress on your jaw joints, and help you put a stop to recurring discomfort.
Talk To Healthy Smiles Family Dentistry To Discuss Restoring Your Smile
Healthy Smiles Family Dentistry is proud to make quality oral health services available to patients in need of dental work in and around the Houston, TX area. If you are experiencing difficulties because of tooth loss, we can provide the appropriate care, while also working with you to relieve the problems created by compromised dental function. To learn more, or to plan a consultation, call our dental office in Houston, TX, today at (281) 974-4494.