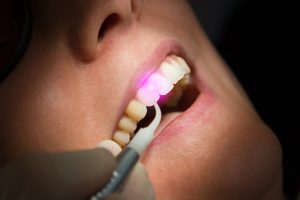 Our team is dedicated to offering quality care for each and every patient, and that often means adopting new technologies and treatment options. In today's blog, your Houston, TX, dentist will explain how our Solea® dental laser offers both hard and soft tissue treatments with comfort and precision, helping people enjoy treatment that often requires no anesthesia!
The Dental Laser
The Solea® laser can be used for both hard and soft tissue applications, employing a concentrated beam of light to reshape, repair, or remove portions of the teeth and gums, improving smile symmetry and preventing the need for scalpels, drills, or sutures in many cases! Simply put, our patients both young and old benefit from a more comfortable approach to common treatment options.
Benefits for Patients
First, the treatment rarely requires the use of anesthesia at all. In addition, the technology is very quiet and targets and treats portions of the smile with accuracy and precision, preventing any damage to healthy tissues or tooth structures. Most of the procedures can be completed in one visit, and you usually return to normal activities after only a day of rest. There is a significantly reduced risk of infection and bleeding afterward, as the laser instantly cauterizes the treated areas. You return to your normal life much sooner, and don't need to return for visits to remove sutures.
Possible Treatment Options
If you have a cavity, we could use the laser to carefully remove the decayed portions of the tooth, destroying bacteria and preparing your smile to receive a dental filling. We could also use this as part of the bonding and contouring procedures, reshaping teeth and improving esthetics in just one visit. For your gums, we could complete a contouring procedure. Gum contouring helps us address smiles that show too much gingival tissue, a complication linked to teeth that appear uneven or small. We gently reshape the gum line and improve overall symmetry. We could also use the technology to treat periodontal disease, removing diseased tissues and enabling healthy ones to attach to the teeth. From there, managing the disease is possible with routine cleanings. If you have any questions about how we use advanced technology to restore the health and beauty of your smile, and provide treatment that is comfortable and effective, then contact our team today.
We Offer Treatment With Advanced Technology
Our team uses laser dentistry to help you enjoy optimal oral health and avoid the onset of major complications down the road due to disease or infection. For more information on improving the health of your smile with advanced technology, or to schedule your next checkup and cleaning visit, then contact Healthy Smiles Family Dentistry in Houston, TX today by calling 281-974-4494.