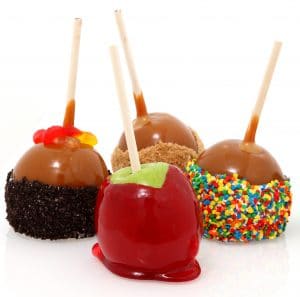 There's nothing quite like the arrival of fall! Even when the temperatures are not quite as chilly and crisp as we might like for them to be, it's easy enough to enjoy the time of year by indulging in the seasonal treats that begin popping up in celebration! While many of them will not be cause for any concern, there are some hazardous items that can make matters worse if you're dealing with TMJ disorder! While it is most certainly time for you to come in to see us for a visit right away if your TMJs are giving you problems and require care, we remind you: Until then, consider our Houston, TX team's suggestions for some fall-time favorites to avoid for the moment.
Candy-Coated Apples, Popcorn, And More!
There's something about autumn that just makes us want to coat nearly anything we can find in a sticky, tacky, hard, caramel or other candy coating. It might sound quite delicious and it always looks dazzling to the eye. However, when you're having an issue with your TMJs (such as TMJ disorder or even a bit of fatigue), this is going to be one treat you should stay far, far away from. It will require too much force to bite, a lot of chewing, and some very real strain on your jaw joints. If you're really craving caramel, seek out a soft dip or drizzle for your apple or popcorn pieces instead! Your smile will thank you.
Pumpkin Seeds
Yes, they are absolutely wonderful for your oral health, when we're talking strictly about dental hygiene and protecting your smile's tissue health. However, it's important to remember that when you're snacking on something that causes you to move your mouth a lot, to open and close your jaws, and to use force (perhaps you are cracking those seeds open with your teeth), then you're exhausting your TMJs. Don't contribute to TMJ disorder with this habit. Skip the long-term snacking and instead, come talk with us. We can help you get back on track with treatment, so you can get back to eating the things you love (especially the healthy stuff!).
See Us For The Care Your TMJs Need
When you're having a problem with your TMJ health, let those jaw joints rest and schedule a visit soon, so we may treat them. Schedule your visit with Healthy Smiles Family Dentistry today by calling (281) 974-4494. We serve patients from Houston, Memorial City, Bunker Hill, West Beltway, City Center, Hedwig Village, and all surrounding communities.