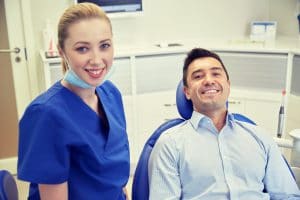 A headache can sap your concentration at work, make you irritable around your family, and generally make days longer and less pleasant. As much as you would love to be free of this problem, you seem to be experiencing pain more frequently, and without a clear cause. Our Houston, TX dental office can help you understand why you have headaches – and figure out how to address them – with TruDenta treatment! TruDenta is a non-surgical approach to understanding why a person has recurring issues with headaches. Through evaluations, oral health treatment, and corrections to your bite function, we can help you put a stop to your ongoing troubles, and enjoy a better quality of life.
Stop Living With Unpleasant Headaches!
Taking aspirin for a headache can help you address the symptom of a problem, but it can be ineffective if you want to understand why headaches have become an issue for you. Instead of relying on short-term answers and hoping your discomfort goes away on its own, you can look for an answer to why you have so many headaches. Many people who experience discomfort on a frequent basis have unresolved issues with their oral health that cause them problems. If this is the case for you, then the right treatment from your dentist can improve your quality of life!
Using TruDenta To Correct Problems That Cause You Pain
TruDenta treatment involves a careful study of your oral health, and the use of digital imaging technology, to assess your oral health, and look for problems that might cause you to suffer regular headaches. Your treatment can involve work to alleviate problems with your jaw, known as TMJ dysfunction, which can hurt your quality of life. In the course of TruDenta treatment, your dentist may work with you on changing the way you move your jaw, as you may be unknowingly putting stress on the joints and muscles. Your care can also include restorative dental work for damaged or unhealthy work, and help dealing with bruxism, a problem with frequent teeth grinding.
Correcting Oral Health Issues Can Help Put A Stop To Your Headaches
Solving problems with your oral health can put a stop to your troubles with headaches. After reviewing your bite function and oral health, your dentist may find that you have problems with your jaw movement because you are just not capable of putting the appropriate pressure on teeth that are less than healthy. If those teeth are supported by dental crowns, it can become easier for you to bite and chew in a more comfortable way. The problem could also be connected to the alignment of your teeth – if so, your dentist may recommend orthodontic work.
Talk To Healthy Smiles Family Dentistry About TruDenta
At Healthy Smiles Family Dentistry, we are prepared to help people in and around the Houston, TX area who are struggling with regular headaches. We can use TruDenta treatment to find out why you have this problem, and to figure out how it can be solved! If you want to learn more, call our dental office in Houston, TX, today at (281) 974-4494.