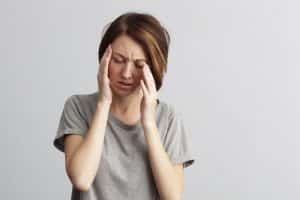 Have you noticed that ever since you had a problematic tooth removed, you have been dealing with more headaches? Perhaps you have decided that your dental extraction related headaches must mean that it's the extraction itself that is causing some type of problem. What we encourage you to recognize is that in most instances, it's the loss of your tooth and the open space remaining in your smile that has caused you this issue. Learn more, so we may help rectify this situation.
Why A Missing Tooth Causes Headaches
After a dental extraction, you have an opening in your smile. This causes your top and bottom teeth to fit together in a different manner than was previously the case. As a result, everything from your smile at rest to your smile while speaking and chewing has changed. Here's why: Your teeth may touch differently, you may shift your jaw in a new way to compensate for the missing tooth, and you may strain to chew. The imbalance leads to headaches associated with anything from grinding to TMJ discomfort and muscle fatigue.
What To Do About It
Well, you have an open space in your smile and the dental extraction has already been done, so what are you to do, you wonder? Are you stuck with headaches forevermore? Not at all. What you should do immediately is contact us for a consultation and evaluation. We can suggest a tooth replacement solution that will work for you and determine whether any other changes need to be made to improve your bite's balance (which will reduce headaches). 
Replace Missing Teeth To Prevent Headaches
Learn more about completing your smile and achieving headache relief by contacting our team. Schedule your visit with Healthy Smiles Family Dentistry today by calling Healthy Smiles Family Dentistry today at (281) 974-4494. We serve patients from Houston, Memorial City, Bunker Hill, West Beltway, City Center, Hedwig Village, and all surrounding communities.