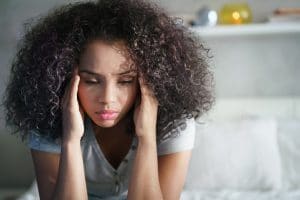 Is your dentist the right person to talk to you if you want to address chronic headaches? For many people, headaches are linked to problems with their dental health, or they may be part of a larger stress-related issue that also concerns your oral health. At our Houston, TX dentist's office, we are prepared to take on problems with headaches for patients. Thanks to TruDenta, we can provide a thorough, non-surgical review to determine what is causing your headaches, which will help us identify a lasting solution. We are also prepared to take on any oral health issues like TMJ disorder or bruxism, which can further reduce your troubles with discomfort.
Your Bite Function Is More Important Than You Might Realize
If you have difficulties practicing a natural, even bite, you may be causing stress that raises your risk for TMJ problems, teeth grinding, and headaches. Through a custom appliance, your dentist can help you reduce pressure on your joints in order to alleviate troubles. While this can be enough to help some patients, others may need to undergo restorative dental work to put a stop to problems with their bite function. Orthodontic problems are sometimes linked to bite difficulties, and so are problems with teeth that require support from dental crowns.
The Connection Between Chronic Pain And Teeth Grinding
Stress often leads to physical changes. One change you should watch out for is an increased tendency to start clenching or grinding your teeth. This problem causes dental damage, stress linked to TMJ disorder and headaches, and facial discomfort. You may have a hard time controlling your teeth grinding habit because you often experience this issue during the night. When this is the case, you can be vulnerable to headaches, jaw stiffness and soreness, and even permanent dental damage. Until the problem is dealt with, you will continue to be at the mercy of teeth grinding's consequences. A custom guard provided at our practice can make it possible to once again sleep peacefully, and without teeth grinding issues.
TruDenta Helps Us Find Ways To Alleviate Troubles With Headaches
The reason for a person's headaches can be tough to pin down at some times. Fortunately, we are able to use TruDenta to determine what might be standing between you and your ongoing difficulties. With this technology, we can identify any issues with facial muscles and joints, then use that information to retrain them so that pressure is reduced. This therapeutic work offers a solution to pain that does not require a patient to undergo surgery, making it a less invasive means of solving a serious problem.
Your Houston, TX Dentist's Office Is Ready To Help You Deal With Headaches And Dental Troubles
At our Houston, TX dentist's office, patients who are struggling with headaches, jaw pains, and other dental problems can visit us to learn how they can enjoy a lasting solution. If you would like to learn more, or if you have questions, please call Healthy Smiles Family Dentistry at (281) 974-4494.