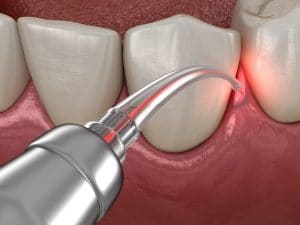 We want to provide our Houston, TX, patients with quality care, which us why we often incorporate advanced technology, from digital x-rays to implant dentistry. We also employ the Solea® dental laser, which helps address a number of hard and soft tissues issues, including gum disease. In today's blog, we're going to look at the benefits of dental laser technology for boosting oral health!
How Does the Laser Work?
The laser itself is a concentrated beam of light, which we employ to address cosmetic and restorative concerns. The technology replaces the need for scalpels and dental drills for many procedures, providing a quiet and comfortable alternative.
Common Treatment Options
We may use this technology to remove decayed portions of the teeth, and to cure lifelike dental fillings, treating cavities both small and large. If you have issues with the shape of the gum line, we can perform contouring, in which we remove excess tissues and reshape the gum line in one visit. Laser technology also helps correct issues with the shape and color of the teeth too. If you have an advanced stage of gum disese, we may employ the technology to remove diseased tissues. Afterward, we can begin using thorough cleanings to control the disease and protect your smile from periodontitis, which is a major factor in adult tooth loss.
Benefits for Our Patients
The Solea® dental laser offers a number of benefits. For example, the laser is very quiet and also targets areas that need treatment with greater precision and accuracy than is possible with a drill or scalpel. We calibrate the beam to ensure the treated areas will be cauterized, which lowers the risk of bleeding and infection, and protects surrounding tissues too. Treatment typically requires little to no anesthesia, and rarely requires more than a single visit to complete, so you return to your normal routine much faster. Simply put, this offers a comfortable, relaxing, and less-invasive solution to an array of general, cosmetic, and restorative oral health concerns. If you have any questions about the Solea® laser system, or about any of our other procerus, then contact our team today. We're ready to see you for treatment and help you enjoy a stronger and more attractive smile!
OUR HOUSTON, TX DENTIST'S OFFICE OFFERS LASER DENTISTRY
At our Houston, TX dentist's office, our team uses advanced technology to help address an array of common oral health issues, returning good health and proper function to your smile. We want you to smile with confidence, and have peace of mind knowing you have strong, functional, and healthy teeth and gums. Find out more about improving the health and beauty of your smile by calling Healthy Smiles Family Dentistry at (281) 974-4494.