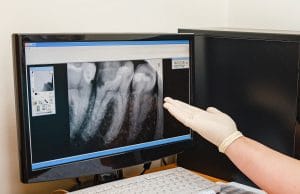 Our last blog focused on our how we use laser dentistry to address hard and soft tissue concerns, from treating gum disease to contouring the gum line. In today's blog, we would like to look at how we perform an accurate diagnosis with digital technology. Your Houston, TX, dentist will explain how digital x-rays and intraoral cameras help us better treat your smile.
The Benefits of a Checkup Visit
When you see our team every six months, then we have a chance to look at your teeth, gums, and oral structures for the tell-tale signs of trouble, identifying common oral health issues at the earliest stages. We then craft a personalized treatment plan to return your smile to optimal health, function, and beauty. The sooner we diagnose these issues, the less likely you will need to undergo extensive treatment options. We also help instill good dental habits in children, and make sure everyone in your family maintains their best possible smiles. If you have high risk factors for issues like gum disease, then you may need a visit every three to four months.
Digital X-Rays
Typically, x-rays will need to be taken and then developed in harsh chemicals, a lengthy process. However, we're excited to offer our patients a digital alternative. The system uses up to 90% less radiation. The images will be instantly available chairside, so no development in harsh chemicals. Not only is this convenient, but its good for the environment too! The images taken will be highly detailed, helping us identify common issues in very early stages.
Intraoral Cameras
We also use intraoral cameras to take a series of clear images. The camera sits at the end of a thin wand, so taking the pictures is convenient and comfortable. These images will be high definition, so we can zoom in on specific portions of your smile to diagnose problems like tooth decay and gum disease, as well as TMJ disorder, bruxism (teeth grinding), and oral cancer. We also digitize these images and information, so we can easily share with specialists and other dentists for added convenience. If you have any questions about how we use digital technology to offer exams with greater precession and accuracy, then contact our team today. We want to help you enjoy a strong smile that stays bright and functional for many years to come.
OUR HOUSTON, TX DENTIST'S OFFICE HELPS IMPROVE SMILES
At our Houston, TX dentist's office, we use advanced technology to provide a diagnosis with precision and accuracy. Find out more about how we use technology to help smiles, or to schedule your next checkup and cleaning visit, you can start by calling Healthy Smiles Family Dentistry at (281) 974-4494.