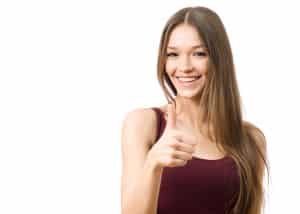 Have you spent quite a lot of time getting your oral health in excellent condition? Perhaps you have been focusing on headache relief or addressing problems like bruxism. Then again, maybe you are coming to us with one of those fortunate grins that hasn't seen much trouble. Whatever the case, we invite you to schedule a visit to learn more about cosmetic dentistry if you are ready to improve the beauty of your smile. Curious about what we can offer to make your smile look its best? Get started by becoming familiar with cosmetic treatments.
Teeth Whitening Treatments
A common problem among individuals seeking cosmetic dentistry is a yellowed or darkened smile. We offer a variety of treatments, including in-office, take-home, and KoR Deep Bleaching for the diverse needs of our patients. Whitening will offer a dramatically brighter grin.
Bonding and Contouring
For minor issues, we suggest cosmetic dentistry treatments bonding and contouring. Dental bonding allows you to cover up problems, fill spaces, or build up slightly damaged areas. Contouring will allow you to gently remove excess or problematic tissue (in very small amounts) to re-sculpt your smile.
Porcelain Veneers
Looking for a way to transform your smile with just one treatment? The cosmetic dentistry treatment called "porcelain veneers" utilizes super-thin ceramic shells that we bond to the visibly apparent surfaces of your teeth. The shells are fully customized, so your smile is practically brand new.
Smile Makeovers
If you are unhappy with a variety of issues with your smile, we offer smile makeovers. This is a service that combines two treatments (or more) for care distinctively tailored to your smile goals.