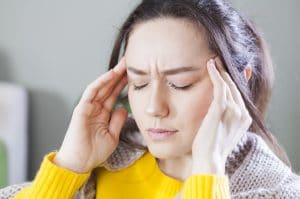 When you continue to suffer from headaches, simply taking aspirin to manage the pain can fall short of truly addressing the problem. What people are sometimes surprised to realize is that their headaches may be the result of oral health issues. You may be feeling a symptom of unresolved problems with your jaw, or your bite function. Our Houston, TX dental practice is prepared to help you understand why you have headaches, and address the root of the matter. This is possible thanks to our use of TruDenta. TruDenta allows us to understand what is happening with your oral health and headaches, and it can allow us to correct concerns with the muscles in your jaw, face, and oral structures!
Your Headache Problems May Be Linked To Your Oral Health
You may experience frequent headaches and migraines because of problems with your bite function, or the condition of your jaw joints and muscles. TMJ disorder is an issue that affects many people, and it can lead to different forms of discomfort. In addition to causing headaches, this problem can make it harder for you to bite and chew, or even speak comfortably. It can also lead to harmful nightly teeth grinding, and concerns with facial and neck pain. Correcting your bite function can reduce the stress on your jaw joints and muscles that had led to TMJ problems, but it may be necessary to perform restorative dental work if problems with certain teeth are interfering with these movements.
TruDenta Allows Us To Pinpoint The Reason For Your Discomfort
TruDenta makes it possible to seek out the true reason for your headaches, and address these concerns to improve your quality of life. The work TruDenta allows us to perform can lead to beneficial changes in your bite, and reduce daily discomfort, by dealing with your facial and jaw muscles. This has allowed us to help patients put an end to their troubles without requiring surgery.
The Importance Of Staying Informed About Your Oral Health
When you are not keeping up with your oral health, potentially serious problems can go uncontested, and continue to hurt you. Keeping up with regular dental exams is about more than just cavity prevention. During your visits, you and your dentist can discuss other important oral health matters, which can lead to the identification and treatment of problems causing you to suffer headaches.
Talk To Healthy Smiles Family Dentistry About Using TruDenta To Find The Cause Of Your Headaches
At Healthy Smiles Family Dentistry, patients who are struggling with chronic headaches can be excited to learn how much good TruDenta can do for them! Our practice is prepared to help people in and around Houston, TX who are struggling with frequent bouts of pain. To find out more, call our dental office in Houston, TX, today at (281) 974-4494.