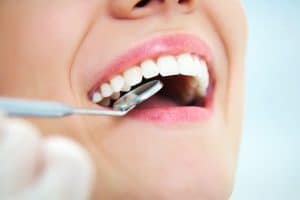 Every six months, we want to see our patients for a checkup and cleaning. Even if you brush and floss and enjoy a good diet, your teeth could still be vulnerable to poor oral health without these regular visits. In today's blog, your Houston, TX, dentist will look at how we treat checkups and cleanings.
The Exam Process
Once every six months, we want to use digital technology to obtain clear and detailed images of your smile. These images, combined with a visual scan, enable us to better diagnose the presence of common oral health issues. The sooner identify these areas of concern, the sooner we implement treatment to prevent the need for more extensive and expensive care down the road. These visits help people of all ages enjoy optimal oral health, and for kids, could lower the risk of dental anxiety and instill good oral health habits.
What We Look For
Our team will look at the teeth for signs of demineralization, which could eventually lead to tooth decay. We also watch for cavities, and look of wear and friction that could indicate TMJ disorder and bruxism (teeth grinding). Watching the gums for signs of inflammation could allow us to address gingivitis and gum disease in the early stages. For adults, we will screen for oral cancer. For kids, we can make sure the teeth are erupting and falling out on schedule, and keep an eye on the waring signs of misalignment.
Dental Cleanings
During your checkup appointment, we will also clean your teeth. A dental cleaning means we remove all plaque and tartar (calcified plaque) from the teeth, something brushing and flossing alone cannot do. The procedure helps fight bad breath, prevent teeth stains, and also lowers the risk of issues like tooth decay and gum disease. We finish the procedure by thoroughly polishing the teeth, so you leave with a brighter smile! This benefits kids and adults alike.
Scaling and Root Planings
If we find warning signs of gingivitis and gum disease in adult smiles, then we may recommend a scaling and root planing. Like a cleaning, this removes buildup from the teeth. But unlike a routine one, this also removes buildup from the roots. The process reverses inflammation, and manages the early stages of gum disease to protect your smile from worsening symptoms and adult tooth loss. If you have any questions about our approach to preventive care, or if you would like to schedule an appointment for yourself or a member of your family, then contact our team today.
OUR HOUSTON, TX DENTIST'S OFFICE OFFERS FAMILY DENTISTRY
At our Houston, TX dentist's office, we use preventive and general treatment to help you and your family maintain optimal oral health. Find out more about our routine checkup and cleaning visits by calling Healthy Smiles Family Dentistry at (281) 974-4494.