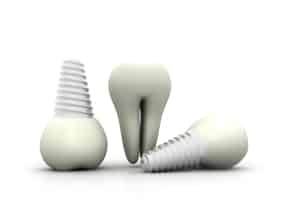 Your smile, including your teeth and oral structures, are unique, and so are your needs when it comes to restoring your dental health. Because of the intricate nature of tooth loss, modern dentistry offers a variety of restorative options for rebuilding your smile (i.e., dental bridges and dentures), depending on how many teeth are missing. However, nearly all patients who've lost teeth can benefit from supporting their dental prostheses on one or more dental implants.  
Why They're Called Dental Implants
As you might surmise from their name, dental implants are surgically placed into the foundation that supports your teeth—your jawbone. Rather than resting within your jawbone's socket, however, implants are designed for your jawbone to accept them as genuine, and bond to their biocompatible titanium surfaces.
The Benefits of Dental Implant Restorations
Each implant is a separate post that can support a certain amount of your bite's pressure (like your teeth's roots). You can receive however many implants your restoration requires, making them a good choice for patients with a variety tooth loss patterns.
By rebuilding the root support within your jawbone, implants help maintain your jawbone's integrity, which can suffer from bone loss when one or more roots are missing. The improved support also means your dental implant restoration won't become loose and move around, like traditional dental bridges and dentures do over time.
Are You a Candidate?
If your smile isn't complete with all of its natural teeth, then you may be a good candidate for dental implants. The main prerequisites for the procedure are the absence of dental health issues, like tooth decay and gum disease, and a jawbone strong enough to support the implant posts for life.
ABOUT YOUR HOUSTON DENTIST:
At Healthy Smiles Family Dentistry in Houston, TX, Dr. Amy Vlachakis (pronounced Vla-ha-kiss) and her dedicated staff strive to make everyone feel like family, while providing top-notch general, cosmetic, and family dentistry services to patients of all ages. To learn more, or to schedule a consultation, call our office today at (281) 974-4494. Located in Memorial City Plaza, we proudly serve patients throughout Houston, Memorial City, Bunker Hill, West Beltway, City Center, Hedwig Village, and all surrounding communities.