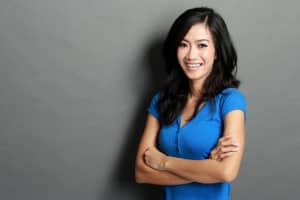 If you've continued to brush and floss your teeth every day since childhood, then you have a good chance of preventing most of the issues that could threaten your dental health. However, cavities, bad breath, and gum disease are not the only things your teeth have to contend with, and sometimes, you can't prevent things from affecting their appearance. Depending on what your cosmetic issues are, and how severe they have become, porcelain veneers can improve your smile with a single cosmetic procedure.
The Making of a New Smile
The secret to their versatility lies in how porcelain veneers are made and applied—each wafer-thin porcelain shell is bonded to the front surface of a corresponding tooth, completely reinventing its appearance. After preparing your teeth by sculpting a small amount of enamel from their surfaces, we'll take careful, precise measurements to send to a trusted dental laboratory. After a skilled technician hand-crafts your unique veneers, we can expertly, and permanently, bond them in place, improving your smile's issues at once.
Deciding if Porcelain Veneers Are Right for You
Because veneers can improve your smile without much alteration to your tooth structure, they are often recommended instead of multiple procedures. If your teeth are stained, chipped, not aligned properly, or appear odd in their size and shape, then we may recommend one or more porcelain veneers. However, if one or more of your teeth are infected with a cavity, or are damaged enough to require restorative treatment, then we can recommend a more appropriate procedure to restore your teeth's health and appearance.
ABOUT YOUR HOUSTON COSMETIC DENTIST

:

At Healthy Smiles Family Dentistry in Houston, TX, Dr. Amy Vlachakis (pronounced Vla-ha-kiss) and her dedicated staff strive to make everyone feel like family, while providing top-notch general, cosmetic, and family dentistry services to patients of all ages. To learn more, or to schedule a consultation, call our office today at (281) 974-4494. Located in Memorial City Plaza, we proudly serve patients throughout Houston, Memorial City, Bunker Hill, West Beltway, City Center, Hedwig Village, and all surrounding communities.