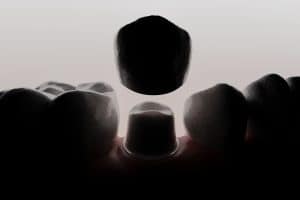 We're recently explained how a filling helps treat cavities and restore smiles, but what if a patient has a more advanced cases of decay, or a tooth that is cracked or chipped? They may need more than just a simple filling, which is why your Houston, TX, dentist offers lifelike and long-lasting dental crowns too! In today's blog, find out how we use them to restore smiles and address an array of cosmetic and restorative issues.
Repairing Damaged Teeth and Treating Advanced Cavities
The restoration covers the entire visible portion of your tooth, everything from the gumline up, which means we address multiple issues with the shape and structure. For example, our team often places them to address more severe cases of tooth decay, or to complete a root canal for infected teeth. We repair cracked or chipped teeth, and provide length to worn-down teeth as well. Placement has been shown to address malformed teeth and address permanent discoloration, too. If you have lost one or more teeth, we may anchor a dental bridge into place or restore a single tooth dental implant.
Choosing Lifelike Materials
The materials we choose will depend on the position of the tooth, but when possible, we always opt for lifelike options. For example, we may reserve all-porcelain for the front-facing teeth, as this is the most lifelike option. Since the rear teeth undergo more severe pressures and must absorb greater bite forces, we could opt for porcelain-fused-to-metal or zirconia. All of these materials can be tinted to match the color of surrounding teeth, ensuring you never hesitate to smile!
Preserving Your New Smile
The crowns are still attached to natural teeth, which means you need to maintain good oral health habits to ensure they last decades, and to protect your surrounding teeth as well. We suggest brushing your teeth twice a day for two minutes, when you wake up and again before bed. A fluoride toothpaste is a must too! Be sure you floss every night prior to sleep as well. Finally, make time to see us every six months, so we can monitor your new restoration, as well as your natural teeth. If you have any questions about keeping your smile healthy, or if you think you have an issue that benefits from a dental restoration, then contact our team today to learn more about our durable and lifelike custom crowns.
OUR HOUSTON, TX DENTIST'S OFFICE PROVIDES NATURAL-LOOKING REPAIR
At our Houston, TX dentist's office, we want to prevent complications by treating damaged or decayed teeth with restorative dentistry. In addition to crowns, we also have lifelike fillings. Find out more about our advanced and lifelike dental restorations by calling Healthy Smiles Family Dentistry at (281) 974-4494.