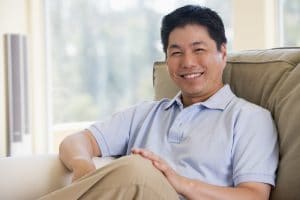 When you have an untreated tooth problem affecting your dental function, you are vulnerable to painful oral health issues. Over time, an awkward of painful bite can put stress on your jaw, which can lead to TMJ dysfunction. Of course, you also need to be concerned about why your tooth is too sore or sensitive to handle pressure when you bite and chew. If the problem is an infection, the health of your tooth can continue to worsen until you have the appropriate restorative dental work performed! At our Houston, TX dental practice, we can evaluate the condition of a problem tooth, and recommend the placement of a custom dental crown to restore that tooth's health, and your bite function.
Damaged Or Unhealthy Teeth Can Interfere With Biting And Chewing
Your ability to bite and chew naturally is an important one. A flawed bite can cause you to unknowingly rely too much on certain teeth, and create wear and tear that makes them vulnerable to problems. An issue with your bite motion is also capable of putting stress on your jaw joints and muscles. When this strain continues, and it is not addressed, the problem can result in you experiencing chronic pain in your face, jaw, head, and neck. This problem is referred to as TMJ dysfunction, and it can also create additional struggles with biting and chewing.
We Offer Modern Dental Crowns That Can Mimic Your Tooth Structure
Our practice can provide you with a dental crown for a vulnerable tooth that is attractive, strong enough to support your biting and chewing efforts, and custom-made to fit comfortably. Because different teeth have different needs, we do offer different types of materials. If you have a problem with a molar or premolar, durability can be a high priority, while the appearance of the crown can be less of a concern because it will be hard to see. Metal crowns can provide ideal functional protection for these teeth. If you want to make sure a visible tooth is restored AND be sure your smile still looks attractive, we do offer porcelain and zirconia crowns that can imitate your tooth structure.
Addressing Possible Causes Of Dental Trouble
You can count on our practice for ongoing preventive dental care, and an effective response to problems that negatively impact your oral health. If your tooth trouble is the result of a cavity, we can make sure decay is completely removed, and that your tooth is safe. If your tooth was injured because of chronic teeth grinding during sleep, a problem known as bruxism, we can recommend a custom appliance to wear that will keep your smile safe at night.
Talk To Healthy Smiles Family Dentistry About Receiving A Dental Crown
At Healthy Smiles Family Dentistry, patients can count on our practice to provide important restorative work when you have a problem with a certain tooth. A dental crown can be designed to fit comfortably, support your bite function, and even restore the quality of your smile! For more information, call our dental office in Houston, TX, today at (281) 974-4494.