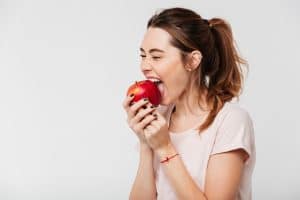 How worried should you be if you start to have a difficult time biting and chewing with certain teeth? There are several reasons to take this particular problem seriously. One issue is that a change in your bite can have worrying effects on your well-being. The change can put stress on your jaw joints and muscles, which can lead to TMJ disorder and chronic headaches. You should also be aware that ignoring pain or sensitivity means ignoring teeth that could be in need of restorative dental work. Our Houston, TX dental practice is ready to help you restore problem teeth and dental function. Teeth that need more support can be restored with modern dental crowns that provide protection, and successfully imitate the appearance of healthy enamel.
Damaged And Unhealthy Teeth Can Provide Too Little Support
Poor oral health can affect your ability to comfortably bite and chew food. That lack of support can force you to change how you exert pressure when you bite and chew, leaving your other teeth in a situation where they have to do more work. This can also create stress for your jaw joints and muscles, which can lead to pain, as well as limited movement. The longer you go without treatment for those teeth that offer insufficient bite support, the more likely you are to create additional oral health issues for yourself!
Are Bite Problems The Reason You Keep Experiencing Headaches?
While it might seem strange to link problems with your bite to headaches, this could be exactly why you are experiencing difficulties. When stress and strain become issues for your jaw, you can start to experience persistent headaches. We use TruDenta to carefully study how your bite might be responsible for headaches. With this information, we can show you how positive changes to your dental function can benefit your well-being.
We Can Help You Fully Address Issues That Cause Dental Discomfort
By restoring unhealthy teeth with dental crowns, you can once again feel comfortable biting and chewing naturally. This can lead to a reduction in stress that reduces problems like headaches, jaw pain, and other concerns. With the information gathered by a study of your bite, we can provide corrective support to help you fully adjust to your better dental function, and reduce stress.
Talk To Healthy Smiles Family Dentistry About Receiving Dental Crowns
At Healthy Smiles Family Dentistry, patients can enjoy important support when issues affect their bite, or cause persistent discomfort. We offer quality restorations for teeth that are in need of treatment. We also have the ability to help with ongoing issues that cause headaches, jaw pain, and other difficulties. In order to learn more, or to set up an appointment, call our dental office in Houston, TX, today at (281) 974-4494.