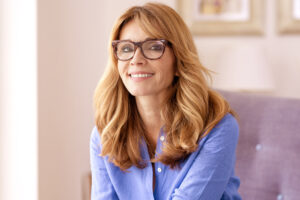 At our Houston, TX dental practice, we are prepared to step in and provide the appropriate care for your problem tooth, even if it is affected by serious decay or physical harm. In these situations, we can find it necessary to provide support in the form of a dental crown. Unlike a filling, a crown will affect more than just the unhealthy portion of your enamel. This restoration will actually surround the tooth structure above the gum line to provide protection. There are different materials we can use to take care of you when you need this kind of work done. Depending on the tooth in question, its prominence in your smile, and the bite support it needs to provide, we can discuss treatment with a more durable restoration, or one that can match the appearance of your enamel.
What Will Your Dental Crown Look Like?
We provide different types of dental crowns made from different materials. There are some situations where we may recommend a metal crown, or a porcelain-fused-to-metal restoration. While these provide valuable stability and bite strength, they can be less lifelike than we recommend for work on one of your front teeth. However, they can withstand the greater forces generated on your back teeth. For restorative dental work that takes place on more prominent teeth, we can recommend that patients receive crowns that are made from lifelike substances like zirconia or porcelain.
Placing A Permanent Restoration
To properly protect your tooth when you have a cavity, we will determine if you need the support of a dental crown. If this is needed, we can make sure you have lasting support in the course of two appointments. At the first, we will evaluate your tooth by taking detailed measurements, which will tell us what shape and size your restoration needs to be to stay secure, leave neighboring teeth unaffected, and provide the right appearance. We can also provide the preparatory work that needs to take place to ensure that your crown can fit. At your second visit, we can provide your customized restoration. The process of bonding it into place is permanent; once it is in position, you can count on it to deliver long-term support!
We Can Help You Avoid Future Troubles With Your Smile
Through your regular dental checkups and teeth cleanings, you can make problems that demand dental crowns less likely to occur. These appointments can lead to the early detection of trouble, which we can follow with treatment with a conservative dental filling. Because your teeth are thoroughly cleaned each time you see us, these appointments can actually lower your overall risk for dental decay.
Talk To Your Houston, TX Dentist About Treatment With A Custom Crown
Through treatment with custom dental crowns, we can make sure that our patients have lasting support for their teeth when they need restorative services. If you have questions or want to find out more about our practice, contact your Houston, TX, dentist, Dr. Vlachakis, by calling 281-974-4494.