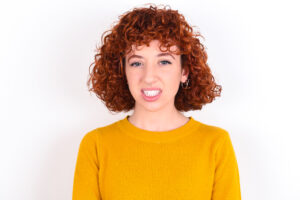 Your smile is protected by your oral hygiene routine and your preventive appointments. However, remember that you are not just vulnerable to cavities, as physical strain and wear and tear can also hurt teeth. One issue to watch out for is a habit of teeth grinding, also known as bruxism, which can lead to damages that make you self-conscious. Our Houston, TX dentist's office is here to help you if you think this issue is making trouble for your appearance and dental well-being. We can both take on the problem itself by providing a custom oral guard and address wear and tear that already affect you.
Bruxism Can Cause Serious Damage To Your Enamel
If you do not take action to address the problem, bruxism will continue to wear down your enamel and make unwelcome changes to your smile. While behavioral changes can help reduce this problem, it can be tough to stop teeth grinding and clenching on your own. With your dentist's help, you can protect yourself against further trouble, and you can make sure that existing chips, cracks, and other damages are treated.
Make Sure You Are No Longer Vulnerable To Nightly Teeth Grinding Issues
Until you make sure that bruxism is effectively dealt with, you will be vulnerable to more friction on your enamel that will hurt your appearance and oral health. Custom oral appliances are capable of keeping your teeth apart while you are at rest. With this correction, we can make it easier for you to relieve tension on your jaw as well as on your teeth. In addition to protecting your enamel, this will help reduce pressure on your jaw joints and muscles that can cause TMJ pain.
Restoring Teeth That Have Already Been Damaged
Through treatment to restore teeth that are worn or damaged, we can make sure that your smile is not affected by bruxism. Your options include both cosmetic and restorative services. If the damage to your tooth structure is serious enough, we may need to provide dental crowns to keep teeth safe and healthy while positively changing your appearance. Cosmetic services are more conservative, but they can still resolve different issues with enamel damage.
Talk To Your Houston, TX Dentist About Your Teeth Grinding Issues
Your ongoing issues with teeth grinding and clenching can have significant consequences, which can actually worsen as time passes. The sooner you do something about this issue, the sooner you can preserve your appearance, protect your oral health, and reduce your issues with jaw pain. Our practice is happy to help you with this and other problems that can negatively impact your appearance and dental well-being, including problems that lead to headaches and other forms of discomfort. If you would like to find out more about this or another dental service we offer, contact your Houston, TX, dentist, Dr. Vlachakis, by calling 281-974-4494.