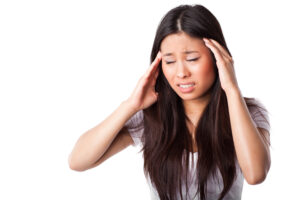 When you have headaches that occur frequently, it can be a good idea to look into what might be triggering them. You may not realize it, but the reason for your troubles could be linked to problems with your dental health. Many people who struggle with neck and shoulder pain, headaches, and other problems have these troubles because they struggle with TMJ disorder. This refers to a problem with your jaw joint alignment and movement, something that your Houston, TX dentist can address. We have TruDenta technology that we can use to better understand your current bite difficulties; from the information it provides, we can recommend personalized care to help you enjoy relief from your headaches!
How Often Are You Affected By Headaches?
If you have recurring issues with headaches, the problem can quickly grow tiresome, and it can cause you to feel some understandable concerns about the state of your overall health. In other words, you can be eager to learn why this issue is affecting you. For many individuals, these painful episodes are being triggered by problems with their jaw alignment and movement. What this means is that your dentist can actually provide important help to put a stop to this and other aches and pains. To make sure we understand what issue or issues might be responsible for your bouts of pain, we can use TruDenta to thoroughly map your bite function.
Looking Into A Link Between Oral Health And Headache Triggers
With TruDenta, we are able to look for any of the functional issues that might be responsible for trouble with headaches and other issues. This review can be an important part of a larger plan to provide TMJ treatment. With the information that we gather, we will be able to assess what changes need to be made. From there, we can recommend an approach to care that is tailored to your needs and concerns.
How Your Dental Health Can Affect Your Jaw Movement
It can be difficult for you to maintain a comfortable and natural jaw movement when you have teeth that are in poor health. With regular dental exams and cleanings, you receive updates about potential problems and treatments to make sure these issues no longer affect you. With this kind of timely care, you can also prevent the onset of future problems that can impact your quality of life.
Talk To Your Houston, TX Dentist About Your Desire For Headache Relief!
If you have troubles with headaches, you should know that poor jaw movement and alignment may be the cause. If it is, our practice is ready to help you take the matter on so that you can enjoy welcome relief from ongoing discomfort! If you are interested in finding out more, contact your Houston, TX, dentist, Dr. Vlachakis, by calling 281-974-4494.