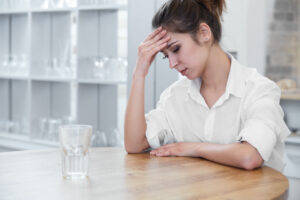 How often do you find that your daily plans have to be changed because you are dealing with a painful headache? Is this kind of discomfort becoming a regular issue for you? The trouble could stem from unresolved tension from poor jaw alignment and movement, something that your Houston, TX dentist's office can help you resolve. We can look out for the issues with a bite imbalance that can lead to more frequent headaches. In fact, we have the ability to use TruDenta to both better understand your bite health and look for ways to reduce the tension responsible for headaches.
Are You Experiencing Frustrating Headaches Due To A Problem Your Dentist Can Treat?
Headaches can have many triggers, but it is helpful to know that they can be caused by unresolved issues with your jaw health and movement. With this in mind, you can reach out to your dentist to discuss your problems and receive information on how you can improve your quality of life. Many people have difficulties because they have developed a problem with awkward or uneven movements, have poor alignment in their joints, or cause tension due to teeth grinding. Once we evaluate you, we can look at what your treatment should focus on to improve your health and well-being.
Beginning Care To Address Jaw Problems And Headaches
Through TruDenta, we have the means to carefully evaluate your bite movement and overall function. From what we gather, we can learn how poor movement and alignment might be contributing to your aches and pains in daily life. This helps us plan a personalized approach to therapy that eases tension on the joints and muscles so that you are not dealing with further problems like headaches, facial discomfort, and more.
More Benefits To Treating TMJ Problems
TMJ disorder can lead to a nightly teeth grinding habit, but problems with teeth grinding have also been what started jaw troubles and headaches for people. Because each of these issues can trigger the other, you may not know which one is originally responsible for your difficulties. Fortunately, you can learn from your dentist how you can make sure neither of these issues have any further effect on your smile!
Talk To Your Houston, TX Dentist About TMJ Treatment!
Through treatment to address TMJ disorder, we can help you resolve different issues with pain. That can include care to stop headaches from regularly interfering with your quality of life! Our Houston, TX dentist's office is prepared to support you by first confirming that you have issues with your jaw in need of attention and providing a reliable form of relief. If you would like to find out more about how this service can benefit you, contact your Houston, TX, dentist, Dr. Vlachakis, by calling 281-974-4494.