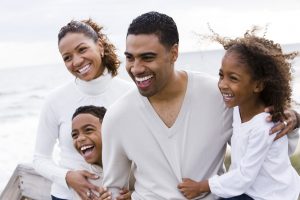 Do you have any plans to travel this summer? Will you and your family be planning a staycation? However you plan to relax during these warm summer days, you should make sure you don't forget about your smile. In today's blog, your Houston, TX, dentist explains what you and your family should do to help avoid issues like cavities and toothaches!
Making Time to Clean Your Teeth
Even if you're out of town at the beach or camping, you should continue to brush and floss your teeth daily. These actions help remove the food particles trapped on and between your teeth, preventing bacteria from breaking them down to create plaque and allow cavities, infection, gingivitis, and gum disease to develop. Regardless of whether you're at home or on the road, you and your family should start your day by brushing for two minutes and end the day the same way. Be sure you use fluoride toothpaste too! Flossing every evening is also essential, as this helps remove the bits of food beyond the reach of your toothbrush's bristles. These actions also help freshen breath and prevent serious discoloration too!
Watch Out Sugary Summer Treats
Obviously, the high sugar and starch content of candy, chips, and soda are bad for your smile. But there are other summer treats that could pose a risk. Sports drinks have been linked to cavities, as have fruit juices and energy drinks. Instead, try to drink more water and enjoy the rest in moderation. You should also consume healthier snack options, such as fresh fruit, veggies, whole grain crackers, low-fat yogurt, and sugar-free gum. Healthier snacks help protect your smile and your waistline, and prove essential vitamins and nutrients that benefit people of all ages.
See Us for a Dental Exam
You should also consider scheduling a checkup and cleaning for you and your family either before or after your summer trips. A checkup means we take a close look at your teeth and gums with advanced digital imaging systems, making a diagnosis with precision and accuracy. We then treat the issues we uncover to prevent worsening oral health issues. The cleaning process could also help remove all plaque and tartar from the teeth, limiting the risk of cavities, gingivitis, and gum disease. If you have any questions about how our team keeps smiles healthy all summer long, then contact our team today.
TALK TO YOUR HOUSTON, TX DENTIST ABOUT CHECKUPS
Our team wants to help make sure that during your time off you and your family avoid issues like tooth decay and toothaches. To continue to keep your teeth and gums healthy and attractive all summer long, then please contact your Houston, TX, dentist, Dr. Vlachakis, by calling 281-974-4494.