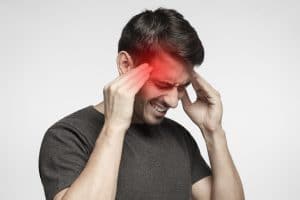 If you are sick of trying to deal with frequent headaches with nothing more than patience, and aspirin, make an appointment to discuss your problems at our Houston, TX dental practice. While it might seem odd to think about your dentist as someone who can help you deal with your headaches, this is a problem that is often linked to oral health concerns. We can offer help in the form of TMJ dysfunction relief – by alleviating stress on your jaw joints, your headaches can be effectively managed. If your headache troubles call for further evaluation, we also provide TruDenta treatment, which will involve a thorough review to understand why you have headaches, and how they can be stopped.
Chronic Headaches Could Be Linked To TMJ Dysfunction
If you often find yourself dealing with headaches, TMJ dysfunction is a likely culprit. TMJ dysfunction refers to any issue that can cause problems for your jaw joints. You may be dealing with this problem because of a past injury that affected your jaw, because of stress, because of teeth grinding, or because of a problem with your dental function. In addition to making a person suffer from frequent headaches, TMJ dysfunction can also make it harder to move your jaw, and it can cause pain in your neck and face.
Using An Oral Appliance To Alleviate Discomfort
Your dentist can provide you with an oral appliance to wear in order to reduce your problems with your jaw. This custom appliance causes a slight, comfortable adjustment to your jaw that can reduce the strain on your jaw muscles and joints. Wearing it at night can bring your issues with TMJ dysfunction under control, and improve your quality of life. We also provide custom guards for people who are dealing with bruxism, or teeth grinding, so they do not damage their teeth at night.
Using TruDenta To Make Sure All Of Your Headache-Related Issues Are Addressed
TruDenta treatment allows your dentist to perform an exhaustive search for why you might have troubles with headaches and TMJ dysfunction. The analysis can reveal issues with poor dental alignment that affects your bite, or problems with teeth that need to be restored. This is a non-surgical treatment that can compile important details related to your headaches, and the information can lead to a plan to make sure difficult headache problems are addressed.
Talk To Healthy Smiles Family Dentistry About Your Headache Troubles
At Healthy Smiles Family Dentistry, you can talk to us about your headaches, and we can work with you to put a total stop to them! Our practice has helped many people address this issue, and greatly improve their lives. If you are ready to set up your appointment, call our dental office in Houston, TX, today at (281) 974-4494.