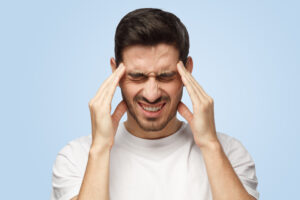 How often are you forced to change your plans because of a headache? Are you having a tougher time making it through your typical week without the onset of another painful experience with this problem? When headaches occur consistently, you should know that you could be experiencing trouble with TMJ disorder, which means correcting your jaw alignment can lead to welcome relief. At our Houston, TX dentist's office, we can offer non-surgical headache relief through the use of TruDenta. We can use this technology to evaluate your jaw movement and alignment, which can lead to the discovery and treatment of imbalances. Our practice can also look out for any oral health issues that have made it difficult for you to rely on an even and comfortable bite movement.
How Often Do You Find Yourself Affected By Headaches?
Do you experience headaches on a recurring basis? If you keep experiencing this problem, it can point to trouble with your jaw alignment and movement. These issues are connected thanks to your trigeminal nerve, which is responsible for sensation in your face, neck, and head. Until you take on a problem with your jaw movement and alignment, you can continue to have headaches that are triggered at inconvenient times. With TruDenta, we can discover problems with your jaw movement and resting position that should be addressed to improve your quality of life.
Using TruDenta To Reduce Headache Problems And Improve Your Quality Of Life
Thanks to TruDenta, patients who regularly suffer headaches can have relief that does not call for surgical care. We can both identify imbalances and uneven movements that put strain on your face and jaw muscles, leading to inflammation and strain. Retraining your movement can lead to relief by reducing stress. This can also help reduce pain in your face and jaw, reduce your risks for teeth grinding, and generally help you live without discomfort.
Restoring Teeth That Are Not Providing Bite Support
One reason why people sometimes struggle with poor jaw movement is that they have poor dental health. If you are not able to put pressure on certain teeth, treating them through the appropriate restorative dental work can help. A custom crown can offer stability and better support while also providing cosmetic benefits!
Talk To Your Houston, TX Dentist About Treatment To Address Headache Issues!
By taking on problems with your jaw alignment and movement, you can reduce tension and pain, and you can take on problems that are triggering headaches. To find out more about how work with TruDenta can help you take this matter on and improve your quality of life, or to learn what else we can do to restore your oral health, please contact your Houston, TX, dentist, Dr. Vlachakis, by calling 281-974-4494.