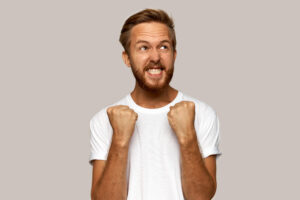 There are different threats to your smile you should know to avoid. Poor hygiene habits and unwise diet choices can certainly have a negative impact on your appearance and health. What you might not realize is that you could be hurting your teeth while you sleep! People who suffer from issues with bruxism, or habitual teeth grinding, can grind and clench their jaw throughout the night. The wear and tear this can cause can become hard to ignore. In time, it can lead to dental injuries that require restorative dental work! Our Houston, TX dentist's office can help you take on this problem. With the right appliance, we can keep your teeth safe while you sleep. We can also help you resolve difficulties with dental damage that has already occurred.
Are You Worried That Bruxism Is Hurting Your Smile?
If you have difficulties with bruxism, you can experience several warning signs. Your mornings can be negatively impacted by this habit, which can cause you to wake up with jaw pain, dental sensitivity, and a general feeling of discomfort in your face. You may also experience problems with TMJ disorder due to pressure being placed on your jaw joints and muscles. The longer it takes you to act on these warning signs, the more likely you are to have complications that require treatment for teeth that are chipped, cracked, or even broken!
Using A Custom Guard To Keep Your Teeth Safe
A custom oral appliance can help you sleep soundly and without fear of bruxism's effect on your smile. When in place, this guard will keep your teeth apart, so there will be no more friction to hurt your enamel. In addition to protecting against this, you enjoy more support for your jaw health, as less pressure is placed on the joints and muscles.
Taking Care Of Damage From Unchecked Wear And Tear
For some patients, protection from bruxism is only provided after dental damage occurs. When you have problems with wear and tear on teeth, we can discuss the improvements offered by cosmetic dentistry. However, if the damages are more serious, we may need to take your oral health needs into account and recommend care with dental crowns.
Talk To Your Houston, TX Dentist About Bruxism Treatment!
The sooner you say something to your dentist about bruxism, the sooner you can make sure it is no longer a threat to your smile! With a custom guard, we can stop this habit from further affecting your enamel. We can also offer support through treatment to address existing enamel damage, even when harm to your tooth structure is serious enough to call for restorative dental work. If you would like to find out more, contact your Houston, TX, dentist, Dr. Vlachakis, by calling 281-974-4494.