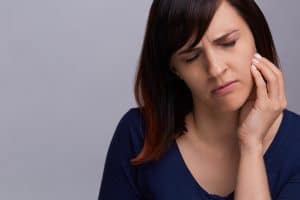 If you want to enjoy life without chronic headaches, painful jaw movement, and stiffness in soreness in your face and neck, you should talk to your Houston, TX dentist about these symptoms when they start to affect you. These can all be signs of TMJ dysfunction, a problem rooted in your jaw health. If something is affecting the joints or muscles that move your jaw, you can feel the effects in several areas. Our practice can perform detailed reviews to determine what is affecting you. When the problem is recognized and understood, the appropriate solution can put an end to your chronic discomfort!
Why Do People Experience TMJ Dysfunction?
No single reason for TMJ dysfunction exists – many different issues could be responsible for your ongoing troubles. You may have problems because your bite alignment is off, or because of an unaddressed injury that affects your jaw. Your problems could also stem from arthritis in your jaw joints, or an unmanaged problem with teeth grinding. At our practice, we can do a thorough analysis to understand why you have problems, and recommend an effective solution.
The Link Between Chronic Headaches And Unresolved TMJ Issues
Your chronic headaches may be related to an unresolved issue with TMJ dysfunction. To determine if this is the case, or to see what might be affecting you, your dentist is able to use TruDenta to determine why your headaches are happening, and to put a stop to them. TruDenta will not require surgery. After your analysis, your dentist can address problems like a troubled bite, or issues with TMJ dysfunction, that are determined to be the reson for your troubles.
Have You Been Grinding Your Teeth? Your Dentist Can Help You
Teeth grinding problems are frequently associated with TMJ dysfunction, but the problem concerns more than just your jaw muscles and joints. Frequent teeth grinding problems, often referred to as bruxism, can lead to serious dental damage! The problem often arises at night – a special oral appliance can keep your teeth safe while you sleep. If damages have already occurred, we can talk to you about the appropriate restorative dental work.
Talk To Healthy Smiles Family Dentistry About TMJ Dysfunction
At Healthy Smiles Family Dentistry in Houston, TX, we can provide quality care for people who are dealing with the pain and functional problems associated with TMJ dysfunction. We use advanced studies and modern treatments to help people recover from issues like TMJ dysfunction, chronic headaches, and teeth grinding. We can also help you preserve your healthy, happy smile by providing regular dental exams! If you suspect that you might be dealing with TMJ dysfunction, or any other oral health issue that is impacting your quality of life, please let us know. To make your appointment, call our dental office in Houston, TX, today at (281) 974-4494.