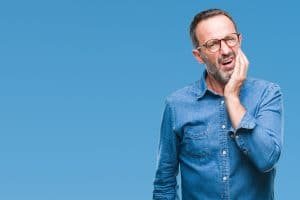 When you have problems with your oral health, you can deal with more than just a less attractive smile. Issues with teeth that are unhealthy may cause you to change the way you bite, chew, or even speak because of pain or sensitivity. Unfortunately, compromising your jaw movement can lead to problems with your joints that result in the development of TMJ disorder. If you have chronic, unaddressed issues with your jaw, you can start to suffer regular headaches, have a harder time with jaw movement, and develop a tendency to grind your teeth. At our Houston, TX dental office, we can provide a full evaluation to determine how your oral health is affecting your quality of life. In addition to restoring unhealthy teeth, we can work with you to address the effect of TMJ disorder.
Teeth That Are Decayed Or Damaged Can Offer Too Little Support When You Bite
The ability to evenly apply pressure when you bite and chew is important. A proper bite function allows you to avoid imbalances that can wear down certain teeth, and make them prone to dental troubles. Unfortunately, you may become overly reliant on certain teeth when you bite and chew because other teeth are too sensitive to absorb pressure. This can also become an issue because a change in the way you move your jaw can cause stress in your joints and muscles. This can result in TMJ problems, which can create multiple issues with discomfort that negatively impact your quality of life.
Restoring Teeth, And Improving Your Overall Oral Health
Let your dentist know if you have a hard time putting pressure on certain teeth, or if you have chronic pain or sensitivity. These teeth could be affected by dental decay, or untreated injuries. To restore them, a root canal procedure may be necessary. Once this is done, dental crowns can provide protection, and give you back the ability to bite and chew evenly.
Correcting your bite function may call for more than just dental work. Our practice can work with you to improve your bite, and we can offer a special oral appliance that keeps the joints in a more relaxed position.
We Can Perform A Thorough Review To Understand And Address Your Pain
Headaches and jaw pain may be related to poor dental health in many cases, but not all cases. If you have experienced ongoing problems with headaches, we can perform a thorough evaluation to figure out why! TruDenta treatment will allow us to pinpoint the cause (or causes) of your headaches, and move forward with an effective solution.
Talk To Healthy Smiles Family Dentistry About Addressing Your Dental Health Concerns
At Healthy Smiles Family Dentistry, we are ready to work with you to restore problem teeth, improve your bite, and put a stop to chronic didscomfort! To find out how we can help you, call our dental office in Houston, TX, today at (281) 974-4494.