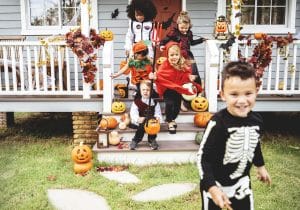 When your child comes home after trick-or-treating, they can eagerly show off the candy they received during the evening. Of course, many children will also be eager to start consuming as many sweets as they can once their night comes to a close, which can make you understandably nervous about their oral health. At our Houston, TX dental practice, we take time during pediatric dental visits to discuss the importance of maintaining good oral hygiene. Between visits, you can do your part to help your kids understand why they want to keep their teeth healthy, too. With that said, Halloween candy can be powerfully tempting, and special measures to keep your kids safe from smile problems can be important.
Too Many Sugary Treats Can Lead To Cavities For Your Kids!
Even if they receive regular dental appointments, and take good care of their teeth each day, Halloween candy can make kids vulnerable to tooth decay. Even a relatively small increase in sugar consumption can be enough to cause cavity trouble. Moderation and smart oral hygiene practices provide an important line of defense against oral health threats.
Enforcing Limits On How Much Candy Kids Can Have Per Day
If you want to lower your child's risk for tooth decay after Halloween, enforce a limit on how much candy they can have in a day. If you want to reduce how much candy they ultimately consume, make a deal with them where they can hand over a certain number of treats to you in exchange for a non-food gift. Even with limits in place, you should keep in mind that your child's sugar intake can increase after they trick-or-treat. Healthy meals and snacks are always beneficial, but it can be an especially good idea to limit their non-candy sugar habits after Halloween.
Remember That Your Teeth Are Vulnerable To Halloween Candy, Too!
Many people will experience an issue with tooth decay after Halloween, and not all of them will be kids! If you want to receive good news at your next dental evaluation, you should make your own smart choices when it comes to candy and your smile. Moderation will be important for you if you want to avoid a problem that requires a dental filling or dental crown. When you do snack on sweets, drink water to help wash away food debris, and be thorough when brushing and flossing each day.
Healthy Smiles Family Dentistry Can Help Your Family Maintain Healthy Smiles!
At Healthy Smiles Family Dentistry, we are ready to help everyone in your family keep their teeth in great shape! To schedule an appointment for yourself, or to arrange checkups for your kids, call our dental office in Houston, TX, today at (281) 974-4494.