Options for Achieving a Brighter Smile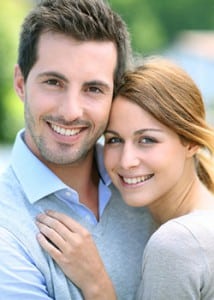 Professional teeth whitening is one of the most popular cosmetic dental treatments. If you are embarrassed by stained, discolored teeth, this treatment can have an enormous impact on the overall appearance of your smile. At Healthy Smiles Family Dentistry, we offer a choice of teeth whitening systems — Venus White Ultra and KöR Deep Bleaching – designed to meet your unique cosmetic needs and preferences. After a careful examination and personal consultation, Dr. Vlachakis will help you select the right whitening option based on your lifestyle, budget, and the nature of your teeth stains. No matter which type you choose, you can enjoy a more stunning smile and boost in self-confidence afterwards.
Venus White Ultra
Venus White Ultra is a custom-designed, professional take-home teeth whitening system that is great for first-timers and touch-ups. The kit consists of premade whitening trays that fit snugly over your teeth, and that you only have to wear for 30-45 minutes a night for seven days. Along with the comfort of applying the treatment at home, you can also enjoy a smile that's up to four shades brighter in as little as a week! Treatment with Venus White Ultra includes a desensitizer to minimize tooth sensitivity during and after the treatment.
KöR Deep Bleaching
The KöR deep bleaching system combines a custom take-home kit with a powerful in-office treatment to provide the most comprehensive teeth whitening results. In addition to erasing surface stains from your teeth, KöR can also brighten the tooth structure underneath, oxidizing the tooth's dentin for a brighter, more youthful appearance.
With KöR, you'll receive a set of custom trays made in our office, along with enough professional-strength whitening gel to last for two weeks. You will wear the trays all night, every night for the two weeks, and then receive a one-hour in-office whitening treatment. The KöR bleaching can brighten your teeth up to 6-8 shades or more, and the results last longer than other professional teeth-whitening systems.
Schedule a Teeth Whitening Appointment
If your smile has lost its brilliance, then brighten it with a custom, professional teeth whitening treatment. To schedule an appointment with Dr. Vlachakis, call Healthy Smiles Family Dentistry today at (281) 974-4494. Located in Memorial City Plaza, we proudly serve the residents of Houston, Memorial City, Bunker Hill, West Beltway, City Center, Hedwig Village, and all surrounding communities.