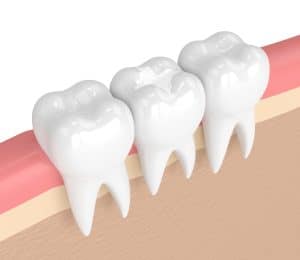 When you have a cavity, you could soon experience painful toothaches and sensitivity, and even a risk of an infected tooth. However, your Houston, TX, dentist can offer relief in one visit with our tooth-colored dental fillings. In today's blog, we're going to look at how we treat cavities with composite resin dental fillings.
The Filling Placement
The placement process only takes one visit to complete! We start by administering a local anesthetic to numb the area receiving treatment and ensure you feel comfortable throughout the process. We remove all decay and then thoroughly clean the tooth. We may also etch the surface to help the material stay in place as we cure it. We apply the filling material and then shape the tooth as we cure the composite resin under a light. Finally, we polish the tooth to ensure a more attractive appearance. After one sitting, you enjoy a more comfortable smile, and a lowered risk of serious complications!
A Lifelike Appearance
Instead of using metal, we use composite resin, which is free of metal and can be tinted to blend with the rest of the tooth structure. In fact, we also use the same material in our dental bonding treatments, correcting minor cosmetic issues like permanent teeth stains or chips and cracks. We want you to feel proud to show off your smile!
Signs of Tooth Decay
If you attend routine checkup visits, then we will likely uncover a cavity in the earliest stages of demineralization, before you even experience discomfort. Otherwise, you may not know you need care until you develop tooth sensitivity or a toothache that doesn't pass after a few hours. With time, the discomfort will increase as your tooth risks becoming infected or abscessed. Let us know if you experience any discomfort!
Now, what about preventing the onset of a cavity? To avoid tooth decay, then our team recommends a visit every six months so we can remove all plaque and tartar with a professional dental cleaning. At home, you should brush when you wake up and once more before bed for about two minutes. Use a fluoride toothpaste when you do, and then floss before bed too. The actions help limit plaque accumulation in between your six-month visits. Consuming fewer sugary foods and drinks is helpful too, as this deprives harmful bacteria of a meal and limits the risk of buildup. If you have any questions about tooth decay and fillings, then contact our team today.
DO YOU HAVE A TOOTHACHE?
If you have an aching tooth and worry about the onset of an infection, then contact Healthy Smiles Family Dentistry in Houston, TX today by calling 281-974-4494. We want to help you enjoy optimal oral health in 2021!