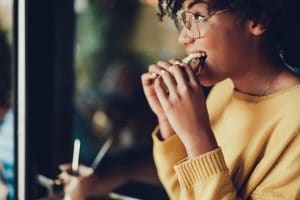 Is a sore or sensitive tooth changing the way you bite and chew? This is not a minor inconvenience – a prolonged issue can lead to stress on your jaw that results in TMJ dysfunction, and you can put certain teeth through more wear and tear than is appropriate. Ignoring the matter of your sensitive or painful tooth is also a problem, because you could be ignoring a harmful cavity! At our Houston, TX dental practice, we provide strong and supportive dental crowns that are custom-made for the teeth they are meant to protect. Your crown can even match the look of your natural tooth, so you will not have to worry about your smile changing as a result of your restorative dental work.
Why Should I Be So Worried About My Bite Function?
Proper bite function is important for maintaining the condition of your teeth. If you have an awkward bite because of a painful tooth, you may not realize how much work you are demanding from other teeth, which can lead to wear and tear that will make them vulnerable to trouble. You can also develop painful TMJ dysfunction, which causes painful jaw movement, headaches, and more. It should also be noted that a problem with your bite is a sign that something might be wrong with your oral health. Because our teeth are limited in their ability to heal from problems on their own, ignoring symptoms of dental trouble can allow matters to worsen over time.
Receiving Custom Dental Crowns
Our practice relies on custom dental crowns to restore teeth that are injured, damaged by tooth decay, or naturally unable to provide adequate biting and chewing support. While many material types are available, you can be happy to know that for teeth that are visible when you smile, you do have the option of receiving a porcelain or zirconia crown. These materials can imitate healthy enamel, which means you can preserve your appearance.
Stay Informed About Your Oral Health By Attending Regular Exams
If you want to take care of a problem with your oral health, we are ready to meet you at our practice, and offer support. If you want to avoid problems, start visiting us for routine checkups! Routine dental exams and cleanings keep you informed about your oral health, and better protected against future issues.
Talk To Healthy Smiles Family Dentistry About Restoring Your Smile, And Your Bite
At Healthy Smiles Family Dentistry, you and your family can count on great oral health care! If you currently have a problem that is affecting your bite, we can address the matter before the issue worsens, and creates new problems. Our practice is proud to help people in and around the Houston, TX area. To make your appointment at Healthy Smiles Family Dentistry, call our dental office in Houston, TX, today at (281) 974-4494.