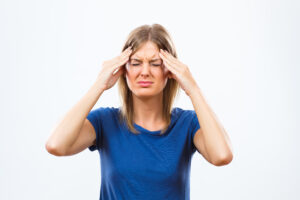 A headache can effectively shut down your plans for the day, and recurring problems with them can create understandable concerns about your overall health. What you might not realize is that the issue could be with your oral health. This is because you can experience these issues due to related problems with poor jaw alignment and movement. If so, your Houston, TX dentist can help. By evaluating your joint alignment and jaw movement, we can determine if treatment at our practice can provide relief. Through TruDenta, we have the means to both identify imbalances and plan therapies that help free patients from ongoing discomfort!
Are You Growing Worried Over More Frequent Headaches?
When headaches continue to affect you in your daily life, you can grow worried about what the problem says about your overall health. It may be something connected to your oral health that actually needs to be addressed. When left untreated, issues with your jaw alignment and movement can result in problems that trigger frequent pains in your face and head. Identifying those imbalances can lead to corrective work that can ease tension and improve your quality of life.
Planning A Review Of Your Jaw Function And Health
Better jaw function can lead to significant quality of life improvements. That being said, it is not always easy to know what changes you need to make. With TruDenta, we are able to evaluate your resting alignment and movement so that we can determine where imbalances are present. By recognizing these issues, we can provide a plan for corrective therapy to positively change your bite function and reduce your overall issues with pain.
Keep Up With Smile Care To Avoid Future Problems
What makes a person susceptible to headaches and TMJ disorder from poor jaw alignment and movement? There are many causes, including issues with poor dental health that force changes into your bite function. The good news is that you can avoid these kinds of issues, and you can receive timely care for jaw trouble sooner, when you stay consistent with dental checkups! This is because these visits create opportunities for us to look for and address issues that can worsen over time and make life more difficult for you.
Talk To Your Houston, TX Dentist About Jaw Troubles And Their Potential Link To Your Headaches
When you experience frequent headaches, you may want to discuss the matter with your dentist. By performing an evaluation of your jaw alignment and movement, we can assess where there are imbalances in your alignment and provide relief through treatment. If you would like to find out more about this or any other service that we can offer at our location, contact your Houston, TX, dentist, Dr. Vlachakis, by calling 281-974-4494.