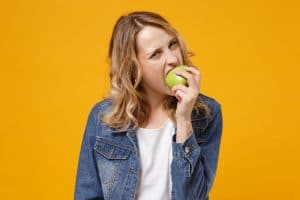 Ideally, a person should evenly apply and release pressure whenever they bite or chew. If you have an uneven bite – meaning there are imbalances in this function – it can lead to several worrying issues in time. One problem is that a flawed bite function can create tension that causes TMJ disorder, and may be responsible for your chronic headaches. Another is that it can lead to the overuse of certain teeth, which can result in those teeth being more vulnerable to harm. Our Houston, TX dentist's office is prepared to help patients who might need to deal with a bad bite. Through TMJ treatment, we can help you address pain that this problem can cause. We can also perform a careful study of your jaw joints and muscles through TruDenta treatment, which we use to help patients who struggle with headaches.
You Should Feel Comfortable Biting And Chewing
How comfortable are you when you speak, laugh, bite, and chew? For most people, these actions can cause few issues. However, they can be a problem for you if your jaw feels stiff, sore, or otherwise uncomfortable. An unresolved problem with your bite can stem from issues with the alignment of your jaw joints, or with imbalances in your movement. In some cases, individuals will have a hard time managing to maintain their bite because of problems with unhealthy or missing teeth. Treating these issues may be vital to larger plans to take on headaches and TMJ disorder.
Arranging Treatment To Restore Vulnerable Or Weak Teeth
If you are not able to perform a comfortable bite movement because of damaged or cavity-stricken teeth, your dentist can perform the appropriate restorative dental work to make corrections. Sometimes, it is necessary to restore teeth with dental crowns. These restorations completely cover teeth above your gum line. If the damage from decay is not serious enough to warrant this, we can use discreet, tooth-colored dental fillings.
The Link Between Prosthetic Dentistry And Your Bite
If you have missing teeth, your bite may be seriously compromised. Thanks to implant dentistry, it is possible to give patients prosthetic dental restorations that provide functional as well as cosmetic benefits. We can also look into placing a dental bridge to close a gap left by one or several adjacent missing teeth.
Your Houston, TX Dentist Can Help You Restore Your Bite
At our Houston, TX dentist's office, individuals who live with pain because of TMJ disorder may be affected by bite issues that we can help address. If you have grown frustrated with regular headaches, joint stiffness, and other concerns, please let us know. You can reach out to Healthy Smiles Family Dentistry in Houston, TX today by calling us at (281) 974-4494.