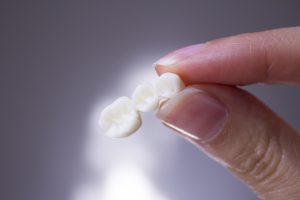 We could lose teeth for a number of reasons, but no matter the cause, the gaps in our smiles could means serious trouble. To offer a solution for minor tooth loss, your Houston, TX, dentist may suggest a custom-made dental bridge. In today's blog, we're going to talk about the difference between our crown-secured and implant bridges!
The Dangers of Tooth Loss
Did you know a gap in your smile caused by missing teeth could lead to trouble? The surrounding teeth could drift and cause misalignment, the strain on your bite's balance and the jaw joints could mean painful symptoms of TMJ disorder and bruxism (teeth grinding). You could also have trouble eating your favorite foods, or even speaking clearly. Not to mention the slow deterioration of the jawbone around the missing roots could make further tooth loss more likely. Replacing your missing teeth is vital for preserving the health, function, and beauty of your smile, and avoiding serious complications in the coming months and years.
Bridging the Gap
A dental bridge is often prescribed specifically for those with more minor cases of tooth loss, such as a single lost tooth or up to three missing ones in a row. We start by removing structure from the teeth on either side of the gap, and then taking detailed digital images and impressions of your smile. In a dental lab, these images and impressions will be used to help design and craft a prosthetic. The bridge contains new teeth with dental crowns attached to each end. We craft them from strong materials that absorb daily bite forces and provide a dependable chewing surface. The materials can also be tinted to ensure your new teeth and crowns blend seamlessly with the rest of your smile!
Crown and Implant Secured
For some, we will place the crowns onto the prepared teeth to secure. These are common, and stay in place for about 10 to 15 years. However, we could also save tooth structure by using dental implants. We insert titanium posts into the jawbone near the missing teeth, where they bond like actual roots. This prevents the loss of mass and density due to missing roots, which keeps your new roots in place for decades to come, possibly even an entire lifetime. We then attach the prosthetic to these implants, prevent the need to remove structure from natural teeth. If you have any questions about addressing tooth loss with a dental bridge, then contact our team today.
DO YOU HAVE QUESTIONS ABOUT OUR PROSTHETICS?
Our team wants to help you maintain a full and beautiful smile with a lifelike dental prosthetic. For more information on our tooth replacement options, then contact Healthy Smiles Family Dentistry in Houston, TX today by calling 281-974-4494.