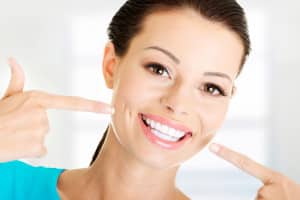 When it comes to dealing with headaches, especially chronic discomfort, finding answers cannot come soon enough. We find that patients often jump to a lot of very logical conclusions. However, if an unidentified dental concern is the cause of your discomfort, your logic may only carry you so far before you hit a wall. In fact, patients often never even realize that something happening with their smile could be the cause of their daily frustration. If headaches are interrupting your life on a consistent basis, we encourage you to schedule a visit for headache relief with us, so we can get to the bottom of what is happening, while offering effective treatment. Wondering how the balance of your bite may contribute? Learn more:
Are You Missing Teeth?
One or more open spaces in your mouth can have a significant impact on your daily comfort. If you have any open spaces, you may deal with difficulty chewing and speaking. In addition, your teeth may no longer fit together correctly. If you neglect these open spaces for a long time, your teeth may begin shifting into the open space, which can significantly affect your alignment and your bite. Replace your missing teeth as a means of achieving headache relief.
Do You Have Restorations?
Restorations include anything that's currently in your mouth that was placed as a restorative treatment. This could include dental prosthetics like a dental bridge, a crown, or even a filling. In some cases, you may have received work that was not adjusted appropriately to promote a balanced, comfortable bite. In some cases, achieving headache relief is as simple as making improvements to restorations.
Dealing With A Misaligned Smile?
Your misaligned smile is causing more than just frustration with your appearance. When you cannot close your teeth together comfortably, you may adjust your jaw to compensate. This may place strain on your jaw joints, which in turn, results in headaches. We may offer treatment or refer you to a trusted orthodontist for improvement.
ABOUT YOUR HOUSTON DENTIST

:
At Healthy Smiles Family Dentistry in Houston, TX, Dr. Amy Vlachakis (pronounced Vla-ha-kiss) and her dedicated staff strive to make everyone feel like family, while providing top-notch general, cosmetic, and family dentistry services to patients of all ages. To learn more, or to schedule a consultation, call our Houston dentist office today at (281) 974-4494. Located in Memorial City Plaza, we proudly serve patients throughout Houston, Memorial City, Bunker Hill, West Beltway, City Center, Hedwig Village, and all surrounding communities.