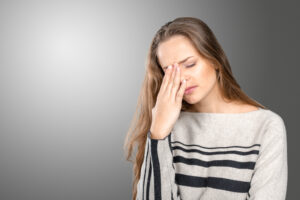 What has been triggering your headaches? For some individuals, this problem is linked to poor bite movement. Until this problem is resolved, you can continue to have different forms of discomfort due to headaches, jaw pain, and even a habit of teeth grinding and clenching. Our Houston, TX dentist's office can provide an evaluation to see how your bite movement might create stress that leads to discomfort. Once your review is performed, we can look for nonsurgical solutions that reduce headaches and other problems associated with poor joint alignment and movement. We can also look out for other issues with your oral health that can contribute to worsening discomfort.
Uneven Bite Movements Create Stress On Your Jaw Joints And Muscles
You may not realize how much your bite alignment has changed over time, but those changes can have serious consequences for your well-being. Poor alignment and movement can cause mounting tension that impacts your jaw joints and muscles. This leads to problems with your trigeminal nerve, which is responsible for sensation in your head, face, and neck. When these problems worsen, you are more likely to have recurring headaches, more vulnerable to issues with teeth grinding, and likely to develop painful or limited jaw movement.
TruDenta And Nonsurgical Headache Relief
With TruDenta, we can perform a thorough study of your bite movement to see how imbalances and uneven movements might contribute to your problems with pain and sensitivity. When this review concludes, we can use the information to start therapy to improve your dental function and bring down tension. TruDenta can offer up a nonsurgical path to relief from different types of discomfort that have become a persistent issue for your health and quality of life.
Restorative Dentistry And Bite Movement
When you have problems with your oral health, maintaining an even bite can prove difficult. What can help is treatment with dental crowns, which can cap vulnerable teeth that are making it harder for you to bite and chew. Custom crowns that are made to protect your tooth can preserve your smile as well as your bite function, something that can lead to cosmetic as well as oral health improvements.
Talk To Your Houston, TX Dentist About Treatment For Uneven Bite Movement
Your dentist is prepared to help you put an end to ongoing difficulties with headaches, jaw pain, and other discomforts related to poor jaw movement. Thanks to TruDenta, we can look for nonsurgical work that can offer lasting relief in a manner that is less invasive than you expect. To find out more about how we can help with this and other problems, please reach out to your Houston, TX, dentist, Dr. Vlachakis, by calling us at 281-974-4494.