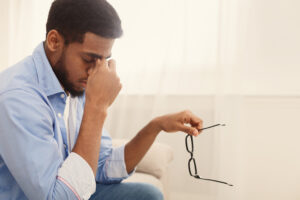 How often do you find yourself searching your medicine cabinet for aspirin to manage a headache? How frequent are issues with jaw pain that make it harder for you to bite, chew, and speak? When you have these issues, it can point to an imbalance in your jaw alignment and movement. In other words, you may have problems with pain, sensitivity, and stiffness because you have an unmanaged issue with TMJ disorder. Our Houston, TX dentist's office is prepared to help with this. We can use TruDenta to evaluate you and make improvements to your dental function to reduce headaches. We can also discuss the role that an oral appliance can play in helping you adjust to better jaw alignment.
Should You Bring Up Your Headache Issues With Your Dentist?
A tendency to suffer headaches may seem like an inappropriate topic for a routine dental exam, but this can actually be a great time to discuss your discomfort. Many people experience this problem more frequently because they have unresolved issues with their bite movement and alignment. These issues put stress on your jaw joints, which can lead to problems with your face, head, and neck! Alerting your dentist to your problems with headaches can be an important fist step in treating a problem that is responsible for your chronic discomfort.
Arranging Treatment For TMJ Disorder
TMJ disorder affects people for different reasons. We can look for problems with your bite function thanks to TruDenta, which points out problems that we can treat through corrective therapy. This can offer a nonsurgical solution for difficulties with your bite movement. We can also look into treatment with an oral appliance, which will help you maintain your jaw in a comfortable position.
Good Dental Health Can Help You Maintain An Even, Comfortable Bite
For some people, bite troubles stem from oral health problems. If you are not able to comfortably put pressure on a tooth, the change in how you bite and chew can create an imbalance that is painful. Regular dental checkups can lead to the discovery of dental problems that require restorative treatment. If you are not doing so already, make sure you have appointments set every six months to consistently protect yourself.
Talk To Your Houston, TX Dentist About Your Issues With Headaches And Jaw Pain
Headaches and jaw pain can certainly lower your quality of life. Fortunately, these are problems that you can take on when you come to Healthy Smiles Family Dentistry! Whether you learn about TMJ problems during a routine visit or come in to discuss concerns about pain, sensitivity, and limited jaw movement, we are prepared to help you. To learn more about our office and our services, reach out to your Houston, TX, dentist, Dr. Vlachakis, by calling 281-974-4494.