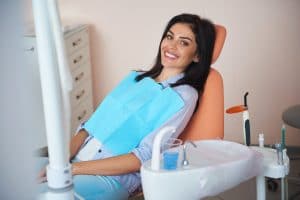 Your efforts to prevent cavities from forming are important. The effect decay can have on a tooth can be significant. Your appearance can be negatively impacted, and bacteria can eventually attack the living tissues within your tooth to cause considerable discomfort. At every routine dental exam, your Houston, TX dentist helps you protect yourself against the threat of decay by providing a careful study of your smile for any potential problems. This evaluation, plus the expert teeth cleaning you receive, can help you avoid the potentially serious effects of a cavity. With that said, there is more to a routine appointment than just cavity protection! These visits also help you maintain healthy gums, address problems with your jaw function that can cause serious pain, and more!
Preventive Care Helps You Take Care Of Your Periodontal Health
The examination and cleaning you enjoy at a checkup is meant to evaluate more than just the health of your teeth. During routine visits, your dentist is also concerned with your gums. Through a routine cleaning, harmful plaque and tartar at your gum line can be removed before they are able to cause gingivitis. If gingivitis is already present, we can recommend an ultrasonic scaling to help your tissues recover.
We Can Address Dental Issues That Lead To Chronic Pain
During your visit, your dentist can talk to you about matters like your bite function, and check for any signs of wear and tear on teeth that might be the result of bruxism. Bruxism and TMJ disorder can lead to dental damage, headaches, and chronic jaw and facial pains if they are not addressed. If your dentist identifies symptoms of either condition, you can discuss treatment options. In both situations, a custom appliance can help put a stop to your troubles.
Screenings Can Lead To The Detection Of Serious Problems
As your oral structures are being evaluated, your dentist will keep watch for any signs of serious health concerns. This check can lead to the early detection of oral cancer, which means treatment can begin while the disease is in its early stages.
Your Houston, TX Dentist Can Help You Preserve Your Healthy Smile!
At Healthy Smiles Family Dentistry in Houston, TX, you can count on important care every time you come in for a routine dental exam. While we are prepared to find and treat cavities that may affect you, our practice is committed to protecting you against more than just this threat! With consistent checkups in place, you can enjoy important support for your gums, for your dental function, and for potentially serious conditions like oral cancer. To make an appointment, please call our dental office in Houston, TX, today at (281) 974-4494.