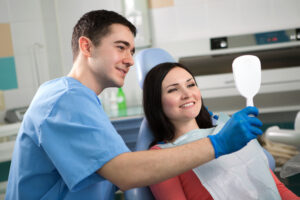 If you want to protect yourself against threats like tartar formation, the development of cavities, and gum disease, your approach to preventive care should depend on your dentist as well as your daily routine. Preventive dental services provide an important type of care for your teeth and gums. At these appointments, you enjoy both routine cleanings that remove threats from oral bacteria and reviews that update you about the state of your smile. When a problem is detected early, your Houston, TX dentist can perform the appropriate work to resolve it before there are unwelcome complications. You should know that in addition to looking for issues with cavities and gingivitis, we watch out for any other problems that might interfere with your oral health, including problems with poor jaw alignment and bite movement.
Are You Doing Enough To Protect Your Smile?
When you think about all that you can do to protect your smile against tartar buildup, cavities, and other concerns, remember that you are not the only person who can help with the prevention of dental troubles. By committing to preventive dental visits along with your regular daily routine, you have more support for your smile. One reason for this is that tartar buildup will be removed on a regular basis; another is that when your dentist evaluates your smile, you can learn about the need for treatment before you have complications that need to be dealt with.
Planning Your Regular Exams And Cleanings
Regular dental exams and cleanings should happen on a semiannual basis, unless your dentist points out a reason why you might want to work around a different schedule. The consistent feedback that you receive will help you avoid problems with advanced tooth decay, which means you are not as likely to need a dental crown or root canal to address a cavity. We can also point to concerns about your periodontal health before an infection becomes difficult to manage. Something else to remember is that you are regularly checked for jaw issues as well as troubles with teeth and gum tissues. When you have unresolved problems with your bite movement and alignment, you can go on to experience significant discomfort, as headaches, teeth grinding, and other issues can affect you. If we need to perform a more involved review of your bite, we can use TruDenta to identify imbalances that should be corrected.
Talk To Your Houston, TX Dentist About Preventive Care
The right approach to preventive dental care can help you keep your smile in good condition, which means your confidence in how you look remains high while your risk for oral health issues is lowered. If you would like to find out more about how we can help you, please contact your Houston, TX, dentist, Dr. Vlachakis, by calling 281-974-4494.