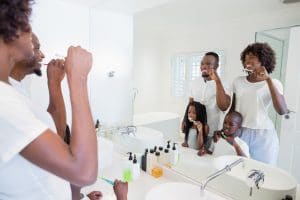 How important is it to keep a healthy smile? Healthy teeth can make a person appear younger, it can give them a confidence boost, and it can even impact their ability to bite and chew without discomfort. At any age, oral health care should be a priority. While many aspects of your health and appearance can change through the years, the right approach to smile care can be surprisingly consistent. One thing to remember is that you can receive important support from your dentist during routine dental exams. Our Houston, TX dentist's office is prepared to help patients at different stages of their life maintain strong, healthy teeth. We can provide quality care and guidance to kids during pediatric dental visits, and help adults stay on top of habits that help them prevent dental problems.
Good Oral Health Matters At Every Age
Your oral health efforts can do more than just affect the quality of your smile. At a young age, proper smile care can help with the proper arrival of secondary ("adult") teeth, and it can prevent problems with discomfort. For adults, proper dental care can actually affect your relative risk for general health issues. The work you put into fighting oral bacteria can help you avoid different concerns related to infection, and the quality of your bite can help you avoid issues with facial pain and headaches.
Encouraging Kids To Practice Better Oral Health Care
While kids, like adults, can count on natural protection from dental enamel, they may be vulnerable to cavities because they are still learning about the importance of dental care. What this means is that your guidance can be important if you want them to avoid problems with cavities. Modeling good habits will be important, but you should also encourage them to make good choices when it comes to their meals and snacks. Kids can have stronger cravings for sweets, which can also impact their relative cavity risk.
What Changes Should You Make To Your Routine?
Is it time to rethink your current approach to oral health care? Even if you have not had recent problems with cavities, you can benefit from identifying opportunities to better support your smile. Relatively small efforts can have a positive effect, and help you avoid restorative dental work. Those efforts can include:
Replacing a toothbrush after three months, or as soon as the bristles begin to look worn
Confirming that you are brushing for at least two minutes
Flossing every day
Cleaning at your gum line to prevent periodontal problems
Our Houston, TX Dentist's Office Helps Patients Keep Their Teeth Healthy!
Our Houston, TX dentist's office can help patients of all ages protect their teeth from potential problems. If you have questions about our services, or if you would like to set up an appointment, you can reach Healthy Smiles Family Dentistry by calling (281) 974-4494.