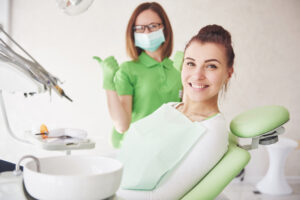 The combination of your daily oral hygiene efforts and your regular dental exams help you keep your risk for cavities low. At our Houston, TX dentist's office, we can help you identify shortcomings in your daily routine and provide in-office services to make dental problems less likely. With that said, we are also prepared to act whenever a patient experiences trouble with their smile that requires restorative treatment. Based on your needs, we can either provide a conservative dental filling or perform the care necessary to take on a more significant issue with your well-being.
What A Cavity Does To Your Oral Health
A cavity's formation will leave your tooth with permanent damage, which means you need to both have decay removed and receive a permanent restoration. The type of support you receive will depend on the severity of decay. Timely treatments can end with the placement s of dental fillings, while larger cavities require dental crowns. Remember that delays in your regular dental checkups make you less likely to avoid cavities as well as more likely to experience complications that demand more involved support.
Treating Dental Decay With A Lifelike Filling Or Crown
Dental fillings enable us to treat areas of decay without modifying healthy tooth structure. Once your cavity is dealt with, we will provide a filling at the site where harm to your enamel occurred. Upon its placement, your restoration keeps you safe from a potential infection as well as further harm. With a dental crown, we can completely surround a tooth above the gum line. For more severe decay, this will become a requirement. This does require more preparatory work, but proceeding with support in this way can save you from losing a vulnerable tooth!
What Our Practice Can Do To Help With Cavity Prevention
Remember that your regular dental visits provide you with opportunities to both be warned about decay and receive support to prevent it from affecting you. At every appointment, we provide both a thorough teeth cleaning and a review of your smile. Cleanings offer protection against future cavities by removing the harmful materials that can cause them to form. During a review, your dentist can point out the presence of any problems and make sure that they are treated before there are complications that demand advanced services.
Talk To Your Houston, TX Dentist About Cavity Treatment!
Through the appropriate cavity treatment, our practice can make sure that your tooth stays safe and secure. We can also see to it that your smile is not disrupted by the presence of a filling or a crown. If you would like to learn more about cavity prevention, or about the services that deal with decay, please contact your Houston, TX, dentist, Dr. Vlachakis, by calling 281-974-4494.