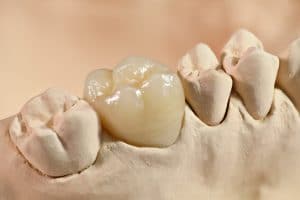 When a tooth becomes infected, or is cracked or chipped, then a filling may not be enough to restore your smile. To help return smiles to full function, health, and beauty once more, our team can create a custom crown. In today's blog, your Houston, TX, dentist discusses the benefits of a dental crown for restoring a tooth.
When Do We Prescribe a Restoration?
A dental crown covers the entire visible portion of each tooth, everything above the gum line. Which means we can repair major cosmetic and restorative issues. For example, we provide repair for chips, cracks, and broken teeth. We've also lengthened the teeth worn down due to chronic teeth grinding. If you have advanced tooth decay or an infected tooth, we can help restore the smile. Placement has also corrected misshapen teeth too, and aided in tooth replacement. We've secured dental bridges with them, and even completed a single tooth dental implant.
Creating a Dental Restoration
There is no one-size-fits-all option. Instead, each one must be made specifically for your smile, which ensures not only a comfortable fit, but proper bite balance too. We start by removing structure from the tooth receiving one. We also remove any decay as well, or infected inner tissues. We then take detailed images and impressions, which we will use in a dental lab setting to design and craft the final product. When you return for a second visit, we place the crown with a powerful bonding agent after making any final adjustments. You then leave with a newly restored smile!
The Materials We Use
We opt for lifelike materials when possible, so you always feel proud to show off your smile. For the front-facing teeth, we may recommend all-porcelain. The material contains stain-resistant properties, and is durable enough to handle family bite forces. We tint the material to match the color of surrounding teeth, and may whiten your smile beforehand and to ensure they matches your brightest smile. For the rear teeth, which must endure even greater bite forces, we could combine porcelain with metal for a stronger, but attractive, repair.
Care
How do you ensure the restoration stays in place? Well, the same routine care that protects natural teeth could protect your crown. You should brush and floss daily, attend your six-month checkup and cleaning visits, and eat a healthier diet. If you have any questions about repairing smiles, or about any of our treatment options, then contact our team today to schedule your next consultation.
Do You Have Questions About Dental Repair?
We offer restorative care to help return smiles to optimal function and health. For more information on our treatment options, then contact Healthy Smiles Family Dentistry in Houston, TX today by calling 281-974-4494.