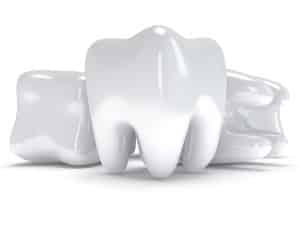 How do you fix a tooth that can't fix itself? Unlike other parts of your body, your teeth's aren't able to repair their damaged or infected structure. Even after treatment, the tooth won't automatically return to its former appearance. To address the many different issues that could afflict a tooth, Houston family dentist, Dr. Amy Vlachakis, offers an array of customized dental crowns to suit each patient's unique needs.
Improve a Tooth's Appearance
Because a dental crown is designed to completely cap and conceal a tooth, it can completely revamp the tooth's appearance when it's marred by cosmetic blemishes. Severe stains, chips and cracks, fractures or breaks, and a host of other tooth problems can be fixed with a lifelike dental crown.
Reinforce a Tooth
Often made from dental porcelain or zirconia, dental crowns can closely mimic healthy tooth structure, and are sturdy enough to withstand the pressures of biting and chewing. Besides making it look better, a dental crown can also fortify and protect a tooth that is weakened by a crack, fracture, or break. If necessary, Dr. Vlachakis may recommend a crown infused with metal for teeth that absorb the most pressure, such as molars.
Support a Dental Bridge
A dental bridge is a prosthetic appliance that replaces lost teeth to restore your bite's function, and your smile's beauty. Consisting of one or more replacement teeth in a row, dental bridges are bordered by dental crowns on either side, which are bonded to the teeth next to the gap to support the dental prosthesis.
Top a Dental Implant
Though dental bridges are highly-effective replacement teeth, a more comprehensive solution for a lost tooth might be a dental implant topped with a realistic dental crown. An implant is a small titanium post that's inserted into the jawbone, replacing the root of the tooth you've lost. Once your jawbone heals, a custom-made, lifelike dental implant can be attached, creating a complete root-and-crown replacement for your missing tooth.
ABOUT YOUR HOUSTON FAMILY DENTIST:
At Healthy Smiles Family Dentistry in Houston, TX, Dr. Amy Vlachakis (pronounced Vla-ha-kiss) and her dedicated staff strive to make everyone feel like family, while providing top-notch general, cosmetic, and family dentistry services to patients of all ages. To learn more, or to schedule a consultation, call our office today at (281) 974-4494. Located in Memorial City Plaza, we proudly serve patients in Houston, Memorial City, Bunker Hill, West Beltway, City Center, Hedwig Village, and all surrounding communities.