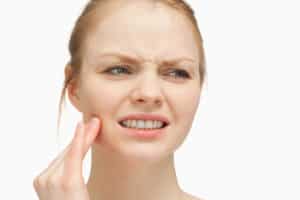 Do you suffer from daily headaches? Perhaps you are plagued by other types of discomfort that are quite frustrating but that you never thought to associate with a dental disorder. If you have a hunch that you may grind your teeth – or if your jaw joints tend to feel sore – you may suffer from bruxism. Fortunately, we can often ease your discomfort and protect your long-term oral health with bruxism treatment. Wondering if your headaches and other symptoms are the result of teeth grinding and if treatment may work for you? Learn more with the following:
About Your Teeth Grinding
Surprisingly enough, though you may suffer from mild to severe side effects, you may not even realize you grind your teeth. Some patients grind their teeth unknowingly during the day while others perform the habit at night, making it difficult to identify the cause of discomfort. If you suffer from discomfort in your face, teeth, or jaw area, the following symptoms may help nudge you toward determining whether bruxism is to blame:
You have a habit of clenching your teeth, particularly when stressed
Your teeth feel extremely sensitive
Your jaw, face, or surrounding area feels sore, tired, or tender
A friend has noticed you grinding your teeth
You suffer from headaches
You have indentations along the sides of your tongue
The surfaces of your teeth appear worn
Seeking Treatment and Relief
Wondering how we can possibly help if you don't even know when you grind your teeth? Fortunately, treatment to relieve headaches and other symptoms is often simple, comfortable, and noninvasive. We may offer bruxism treatment in the form of a custom-fitted oral appliance. We may suggest a mouth guard, which cushions your teeth, so your attempts at grinding or clenching are not harmful. Or, we may recommend a splint, another type of oral device that will gently realign your jaws to completely inhibit bruxism.
ABOUT YOUR HOUSTON DENTIST

:
At Healthy Smiles Family Dentistry in Houston, TX, Dr. Amy Vlachakis (pronounced Vla-ha-kiss) and her dedicated staff strive to make everyone feel like family, while providing top-notch general, cosmetic, and family dentistry services to patients of all ages. To learn more, or to schedule a consultation, call our Houston dentist office today at (281) 974-4494. Located in Memorial City Plaza, we proudly serve patients throughout Houston, Memorial City, Bunker Hill, West Beltway, City Center, Hedwig Village, and all surrounding communities.