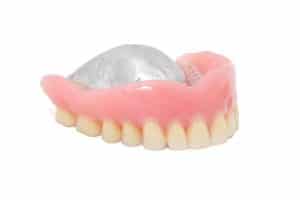 When you have lost a tooth, then we may help with an individual dental implant or a dental bridge. But what if you have lost several teeth, or possibly the majority of them? To prevent serious complications for your smile, then your Houston, TX, dentist may suggest creating a set of either full or partial dentures.
How Advanced Tooth Loss Hurts Your Smile
Losing most of your teeth could impact how you eat, causing you to rely solely on soft foods and preventing you from enjoying your favorite meals, and also limiting nutrient intake. For others, trouble speaking could lead to issues with social interactions. The changes to your bite could mean complications like TMJ disorder or bruxism (chronic teeth grinding). Finally, you could simply feel embarrassed about your appearance, leading to issues with your confidence levels.
Creating a Prosthetic
To address the gaps in your smile and restore function, health, and beauty, you need to replace what has been lost. Each prosthetic we create will be custom-made for your smile. Doing so ensures a proper bite balance, a comfortable fit, and a lifelike appearance. We begin by taking detailed impressions and images with digital scanning technology. We use the information to then begin designing the prosthetic, which is fabricated in a dental lab setting. There is no one-size-fits-all approach, as every smile is different and requires unique care.
Full vs. Partial Dentures
We have two different versions, and the one you receive depends on the extent of your missing teeth. For those with gaps spread out across the smile too severe for a bridge but not serious enough to require a full, then we may craft a partial. The prosthetic contains an acrylic base and lifelike teeth. The base will be designed to look like gum tissues, and metal clasps that are invisible when worn will attach to natural teeth and secure your new smile.
If you lose most of your teeth, we may perform extractions and prepare your smile for a full set. The prosthetic will contain a complete set of teeth for one or both arches. Suction or the use of a special adhesive will keep them in place. Both options will last about 5 to 10 years on average, requiring replacement as the jaw ridge changes shape. We will provide detailed instructions for cleaning and soaking them, preserving their fit during use. If you have any questions about tackling your tooth loss, then please contact our team today to learn more.
DO YOU HAVE QUESTIONS ABOUT OUR DENTURES?
We want to help you enjoy a full smile once again with a lifelike and long-lasting dental prosthetic. For more information on replacing large numbers of missing teeth, then contact Healthy Smiles Family Dentistry in Houston, TX today by calling 281-974-4494.