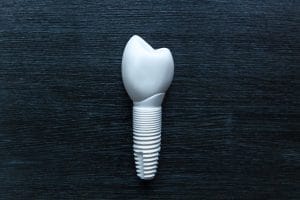 When we place dental implants, we help prevent facial collapse and provide a replacement option that lasts for decades to come. You also enjoy new teeth that look natural and blend seamlessly with your smile. In today's blog, your Houston, TX, dentist explains how we create implant restorations that looks so natural!
Placing Your Implant Posts
First, let's talk about your new roots. The implant posts will be made from titanium, a biocompatible material that the body accepts as a natural tooth root. Through osseointegration, they bond with the jawbone and provide a secure and durable replacement tooth. We plan and guide the process with advanced technology to ensure they absorb bite forces and when restored, provide a durable and dependable chewing surface.
Crowns for Individual Implants
For an individual one, we will attach an abutment that holds a dental crown in place. The crown will be crafted based on detailed impression and measurements we take of your smile. We use materials like ceramic because they absorb bite forces and can also be tinted to blend with the rest of the smile, as they're translucent like tooth enamel.
Crafting a Prosthetic
What if you've lost multiple teeth? For up to three in a row, we may create a bridge. The new teeth will have crowns attached to each end, which we place onto the dental implant posts. Traditional, we place them on natural teeth, called abutment teeth, which means we must remove healthy and strong structure from your smile. If you have more substantial tooth loss, we can craft a full or partial denture, and attach the prosthetic to multiple dental implant posts. The implant post help stimulate the growth of jawbone tissue, which means these prosthetics won't need to be replaced every 5 to 10 years as removable dentures and bridges usually require. Instead, you can enjoy a full smile with a prosthetic or new tooth that lasts for decades, possible even a lifetime. If you have any questions about how we address tooth loss with implant dentistry, or about taking steps to help avoid tooth loss, then contact our team today. We want to help you enjoy a whole, healthy, and beautiful smile!
OUR HOUSTON, TX DENTIST'S OFFICE TALKS ABOUT TOOTH REPLACEMENT
At our Houston, TX dentist's office, we want to help you obtain a full and functional smile with our lifelike and durable dental implants. We know how important a full smile is, and how much confidence they can instill. Don't let missing teeth have a harmful impact on your quality of life, talk to our team about your options today. Find out more about restoring your smile's function, beauty, and health by calling Healthy Smiles Family Dentistry at (281) 974-4494.