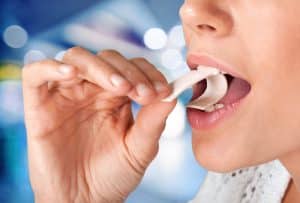 What are you doing throughout the day that causes you to chew? Are you someone who likes to nibble on your pencil, while you work? Maybe you've been known to buy chewing gum in bulk! Whatever the case, you might be overlooking the fact that overworking your jaw and moving your mouth so much may be contributing to headaches by making a functional disorder worse. Don't worry, we've got the nuts and bolts all sorted out for you to look over, so you can get closer to attaining headache relief.
First, Stop Chewing So Much
Regardless of the reason chewing might be contributing to your headaches, it's time to ease up with the chewing. Reducing this motion may help you attain headache relief. It will certainly not hurt. This means we encourage you to reduce the following habits, which are considered excessive when you're dealing with problems that stem from your mouth:
Chewing gum
Chewing your fingernails
Chewing ice as a snack
Snacking too frequently
Chewing hard objects like your pen
Eating food that's very hard to chew
Now, Come In!
Come in to see us, so we can figure out whether a chewing-related issue and/or some other concerns are the basis for your headaches. Did you know that sometimes it's bruxism disorder (grinding and clenching) or TMJ disorder (issues with the function of jaw joints) that is leaving you in dire need of headache relief? Add too much chewing to these issues and you're consistently aggravating your jaws and teeth and surrounding tissues, which may yield daily headaches. See us soon for a diagnosis and treatment.
See Our Team For Your Headache Relief
Come in for a diagnosis soon, so we can help address the heart of your headache problem! Schedule your visit with Healthy Smiles Family Dentistry today by calling (281) 974-4494. We serve patients from Houston, Memorial City, Bunker Hill, West Beltway, City Center, Hedwig Village, and all surrounding communities.