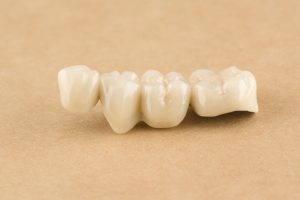 When you lose even one tooth, this could lead to serious trouble for your oral health. However, our team could replace your missing tooth with a lifelike and durable dental bridge. In today's blog, your Houston, TX, dentist will explain how we design and craft them to ensure they look natural and blend with your smile.
The Impact of Tooth Loss
Losing even one tooth could mean trouble for the balance and health of your smile. Obviously, the gap in your smile could change your smile's beauty, but the gap also causes surrounding teeth to drift from position, which allows misalignment to development. Misalignment then increases the risk of complications like tooth decay and gum disease. The imbalance due to tooth loss could also mean a greater risk of TMJ disorder and bruxism (teeth grinding), two jaw joint disorders linked to headaches, jaw pain, and damaged smiles. You could also notice issues eating or speaking!
Using Porcelain and Zirconia
Obviously, replacing your missing teeth is vital for keeping your smile strong and healthy. But how do we ensure the prosthetic looks natural? A bridge contains new teeth with crowns attached to each end. We will often craft these from porcelain or zirconia. Both are metal-free materials able to absorb daily bite forces and provide a durable chewing surface. We then color-match them to blend with the rest of your smile seamlessly. The materials are also stain-resistant as well! To create your prosthetic, we first administer a numbing agent to the surrounding teeth and removing structure from them. Known as abutment teeth, we will place the crown portions onto them to keep the new teeth in place. The prosthetic is designed based on the detailed digital images we gather of your smile after we prepare the abutment teeth!
Protecting the Rest of Your Smile
Once we attach the crowns to the abutments, your new smile is in place and with proper care and attention, could last up to 15 years on average. To keep them strong, and protect the rest of your smile, you should brush and floss daily, and also clean the spaces between the top of the gums and the bottom of the prosthetic, where food particles could become trapped. Be sure to see us every six months for a checkup and cleaning as well! A healthy diet is very helpful too, so cut back on items rich in sugar and starch. If you have any questions about how we address missing teeth with a dental bridge, then contact our team today.
TALK TO YOUR HOUSTON, TX DENTIST ABOUT TREATING TOOTH LOSS
Our team wants to replace your missing teeth with a lifelike and durable dental prosthetic. To find out more about how our team treats minor tooth loss, then please contact your Houston, TX, dentist, Dr. Vlachakis, by calling 281-974-4494.