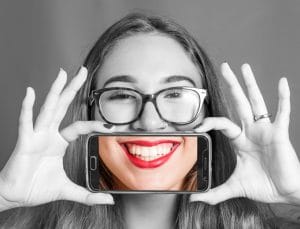 A smile makeover means we combine multiple cosmetic and even some restorative treatments to improve the overall appearance of your smile. In today's blog, your Houston, TX, dentist will explain how we approach a smile makeover, and what treatments could make up your smile transformation.
Two Choices for Teeth Whitening
Often, people complain about the color of their teeth, even if they have more pressing oral health issues. Fortunately, we have professional systems that offer more dramatic results than store bought strips and toothpastes, and also results that last much longer too. With our in-office procedure, we use a special bleaching gel and a light to break up stains in as little as one to two hours. For more severe cases, or those with tooth sensitivity, we have instead recommend a set of trays and a gel that are used from home over the course of a week to ten days, which could, brighten smiles by several shades!
Single-Visit Repair
If you have damaged teeth, or if you have issues with the shape of them or with gaps between them, then we may suggest bonding and contouring. With bonding, we apply the same composite resin used in our lifelike fillings to repair damage and rebuild tooth structure. With contouring, we reshape teeth in one visit by gently sanding and buffing them, which address pits, grooves, rough patches, or sharp portions of your teeth. Both can be done in one sitting, and both help transform your smile. We can even mask stains too severe to be removed with whitening!
Custom Veneers
Porcelain veneers are often used alone to provide a smile makeover. We create them from the same material often used to craft crowns and implant restorations. These thin shells are placed onto the front-facing sides of the teeth, instantly changing the shape and color to transform the smile's beauty. The process of crafting and placing them only takes two visits on average, but instantly addresses an array of esthetic concerns.
Lifelike Restorations
What if you have severely decayed or infected teeth? We also have fillings and crowns made from metal-free materials that we tint to blend with the rest of your smile. After whitening your teeth, these restorations match your brightest smile and help you enjoy improved health as well as better esthetics. If you have any questions about smile makeovers and cosmetic dentistry, or if you have an aching tooth that needs attention, then contact our team today.
OUR HOUSTON, TX DENTIST'S OFFICE OFFERS COSMETIC TRANSFORMATION
At our Houston, TX dentist's office, we want to help you obtain a smile that looks great and offers better oral health. Find out more about transforming your smile's beauty by calling Healthy Smiles Family Dentistry at (281) 974-4494.