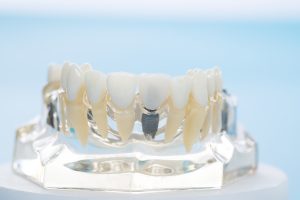 If you have lost one or more of your natural teeth, then your oral health could suffer. To avoid this, and enjoy a new tooth that lasts for a lifetime, you should consider dental implants. In today's blog, your Houston, TX, dentist will explain how implants act as new roots, and provide a durable and lifelike solution for missing teeth.
Placing Your Dental Implants
The key is the actual implant portion. The post is made from titanium, which is biocompatible and accepted by the body as a natural root. This stimulates the growth of jawbone structure, preventing the breakdown that follows tooth loss. You avoid further tooth loss, preserve your facial structure, and enjoy a new tooth that could last for decades, possibly even a lifetime! To place them, we first carefully examine your smile with digital technology, identifying sinus cavities and nerve tissues. We then choose the area that will best support a new tooth, and insert the post directly into the jawbone. The area then heals and the new root bonds with the jaw through a process known as osseointegration.
Abutments and Restorations
Once this happens, we move forward with addressing the physical portion of your new tooth. An abutment is attached to them, which is used to secure a crown. The crown is custom-made from lifelike materials, ensuring an attractive tooth that also absorbs daily bite forces and lasts for years to come. If you have multiple missing teeth, we could attach a bridge or even a denture, providing a fixed prosthetic that never slips and lasts much longer than removable or crown-supported alternatives.
Keeping Your Smile Whole
Following your new placement, you can take steps to prevent the factors behind tooth loss, such as periodontitis, infection, or advanced decay. We suggest seeing us every six months, so we can monitor your teeth, both old and new, and watch for possible signs of trouble. We also remove harmful plaque and tartar buildup. At home, you need to brush and floss daily, eat a healthier diet, and avoid tobacco products. These simple actions help prevent the oral health issues that compromise your teeth and dental implants.
If you have any questions about how we approach the placement of one or more missing teeth, or if you want to know if dental implants are right for you, then contact our team today to learn more. We're ready to help you enjoy a complete smile again!
TALK TO YOUR HOUSTON, TX DENTIST ABOUT DENTAL IMPLANTS
We want to make sure you obtain a complete smile again, and enjoy better oral health as a result. To find out more about how we treat minor or extensive tooth loss, then please contact your Houston, TX, dentist, Dr. Vlachakis, by calling 281-974-4494.