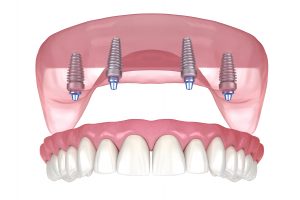 Dentures don't have to be removable. Instead, your Houston, TX, dentist could support them with multiple dental implants, providing secure and stable full and partial dentures. In today's blog, we're going to explain how we create and place them, and what benefits these custom prosthetics could offer your smile! Even if you've lost every tooth, a new smile is within your reach.
Supporting Fulls and Partials
When you have tooth loss too severe for an individual dental implant, even too severe for a bridge, then you may need a set of dentures. To begin, we will carefully examine your smile to understand the factors behind your tooth loss. We may need to begin managing underlying oral health issues before we proceed, especially periodontitis. Next, we take detailed digital images and measurements. We use these to begin planning the placement of the dental implants, and to also design the prosthetic portions too. We insert the implant posts, each made from biocompatible titanium. Abutments will be attached to them and used to connect the full or partial dentures.
Benefits for Your Smile
The posts themselves will stimulate the growth of jawbone structure, preventing the erosion of jawbone tissue that begins once we lose our teeth. The new roots preserve your current facial structure and prevent the loss of additional teeth. You then avoid the risk of an aged appearance due to facial collapse! This process also enables your new teeth to stay in place for decades to come, possibly even a lifetime with proper care and attention. Being fixed in place also prevents them form slipping when you eat and speak, and they never need to be removed for soaking or cleaning. You can also eat your favorite foods again, speak with confidence, and show off your smile without embarrassment!
Protecting Your New Smile
Once your new smile is in place, we will continue to monitor your new teeth with regular checkup and cleaning visits every six months. At home, daily brushing and flossing and a healthier diet could help safeguard your smile. Whether you've lost one tooth, or several, our team is ready to tackle your tooth loss and help you on the path toward a complete smile once again. If you have any questions about our approach to implant dentistry, or if you would like to schedule a consultation for yourself or a member of your family, then contact our team today to learn more.
TALK TO YOUR HOUSTON, TX DENTIST ABOUT IMPLANT DENTURES
We're ready to help you enjoy a complete smile that could last a lifetime, using advanced technology and lifelike materials. To find out more about obtaining a complete smile with implant dentistry and custom-made and lifelike dental prosthetics, then please contact your Houston, TX, dentist, Dr. Vlachakis, by calling 281-974-4494.